At today's THQ Nordic 2022 Digital Showcase, developer Pieces Interactive announced an Alone in the Dark reboot, due to release on PS5, Xbox Series X, and PC. There's no release date yet, but in a behind-closed-doors preview event, we were told the game is currently in 'pre-alpha' – so don't expect it anytime soon (though it has been in development since 'late 2019').
THQ Nordic's executive producer Michael Paeck says that recent games (like the Resident Evil remakes, Silent Hill titles, and Dead Space) go for 'terror' more than 'horror', and the team wants this new title to go back to what made the original 1992 Alone in the Dark special. The team constantly referred to the dense, rich atmosphere of the first game, and how much it wants to recreate that in this new game – some 30 years after the original launched.

To see this content please enable targeting cookies.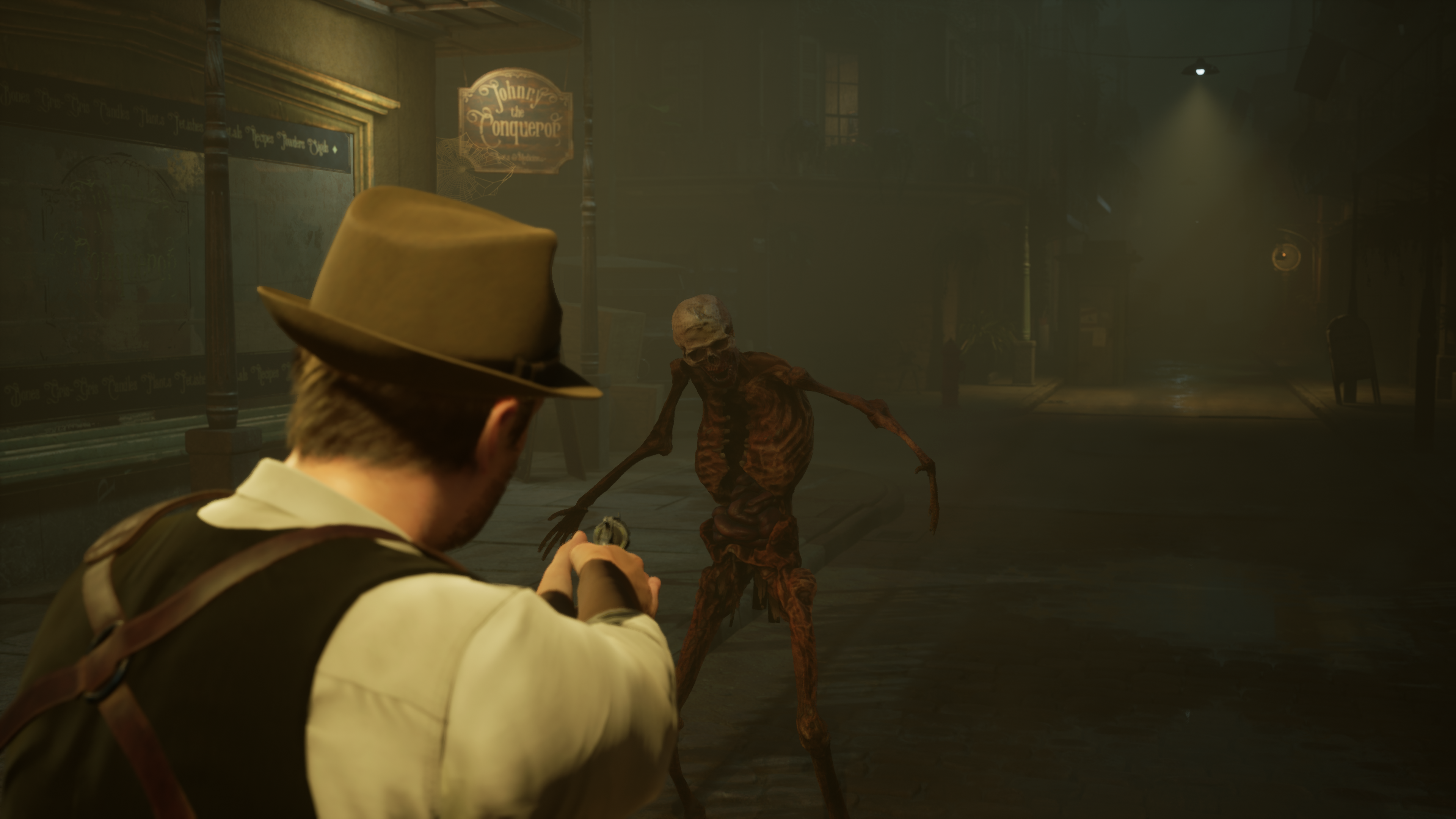 From a debut trailer we've seen so far, the game seems similar to the Resident Evil remakes Capcom has seen so much success with. It's a complete rethink of the first game, with the SOMA and Amnesia: Dark Descent writer, Mikael Hedberg, coming in to head up the narrative on the the project.
"Derceto Manor, the setting for the first Alone in the Dark game had both character and backstory, that's why we wanted to go back, at least in some way," Hedberg explains during the preview. "But we also wanted to understand its time and place – it takes place in Louisiana, not your typical New England location [other horror titles have used]. The Southern Gothic element has its own flavour, that's not explored very much in games."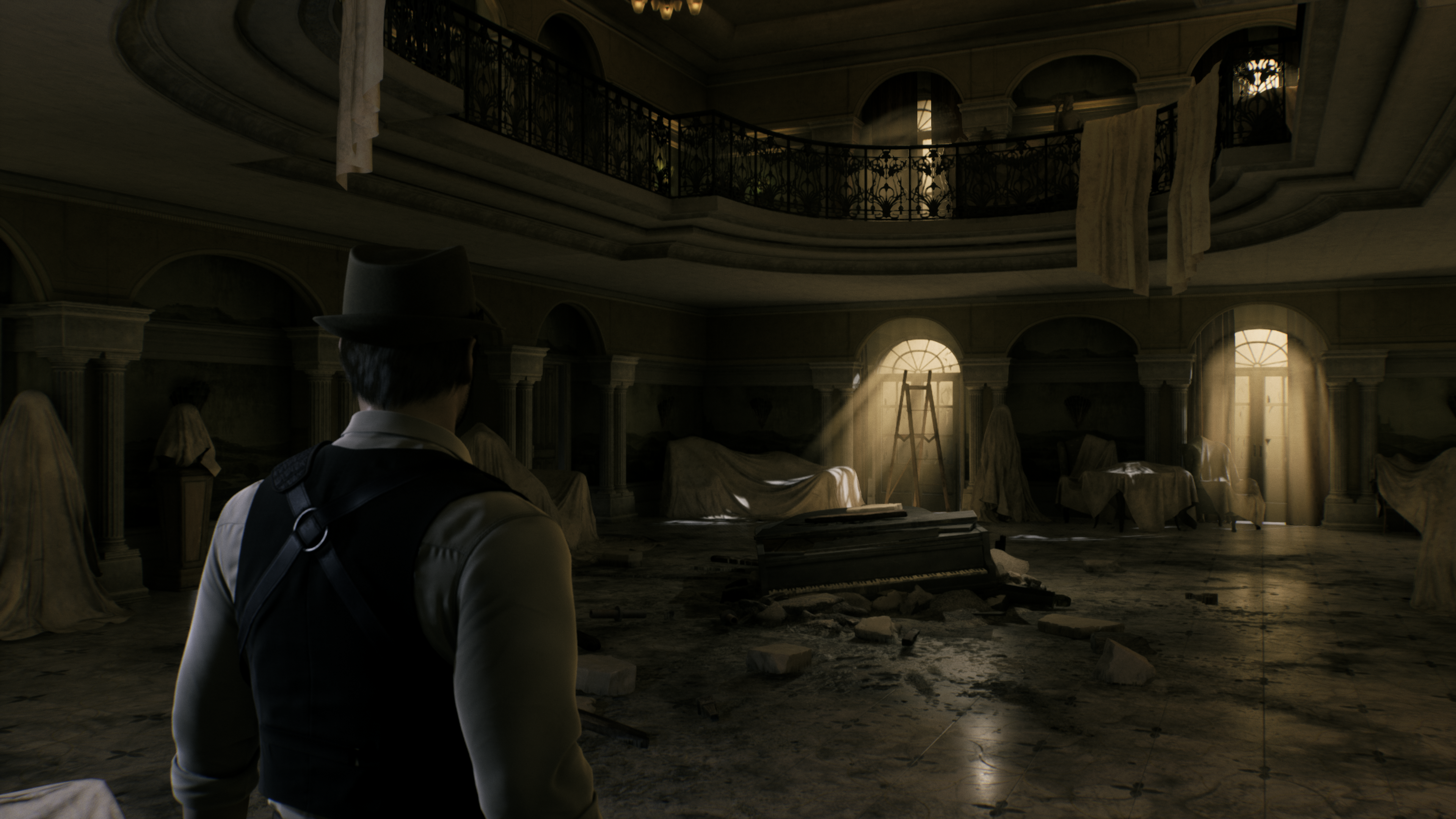 Hedberg goes on to say that he "over-analysed story beats and the setting of the original" to pull more out of the setting and location of the original game. The game is something of a reboot, rather than a remake, then: elements of the first game run through this title, but it's got its own story, and its own identity.
But it's still drawing on the first game for a lot: we see our setting in Derceto Manor: a mental hospital for the rich and wealthy. The game kicks off with Jeremy Hartwood, a patient at the facility, sending a letter to his niece, Emily, who gets concerned and makes plans to see him. Getting bad vibes from his letter, she hires a Private Investigator (series mainstay, Edward Carnby) to come with her.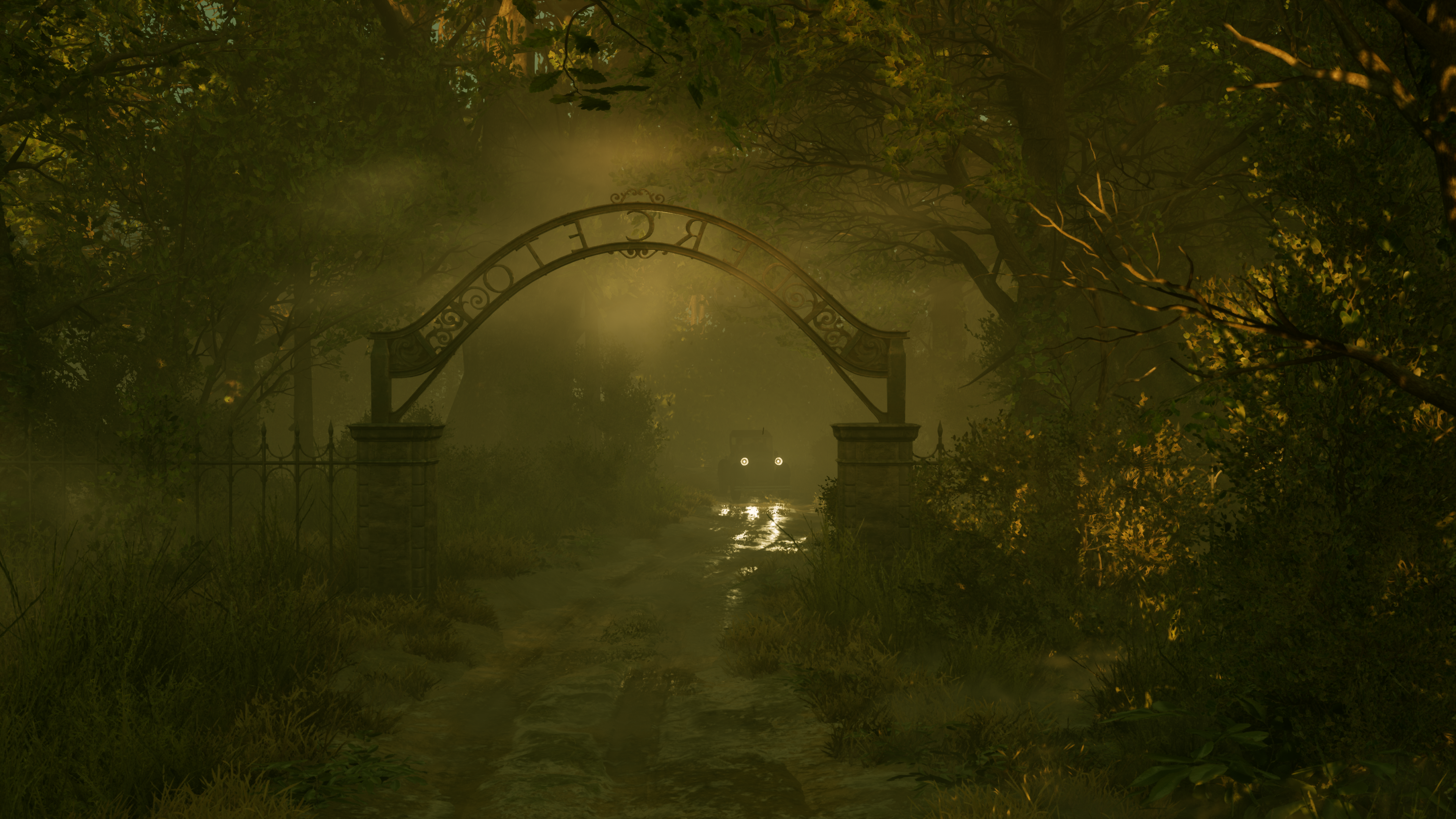 Similarly to the Resident Evil remakes, you can play as either Emily Hartwood or Edward Carnby to get through the game – and Hedberg tells us "you'll want to play through the game twice to get the most out of this one".
The game isn't just set in the manor, either: per the preview, we were told you will also open portals to worlds beyond the mansion itself. This means you will also explore the depths of the bayou, and a cemetery near New Orleans, at the very least.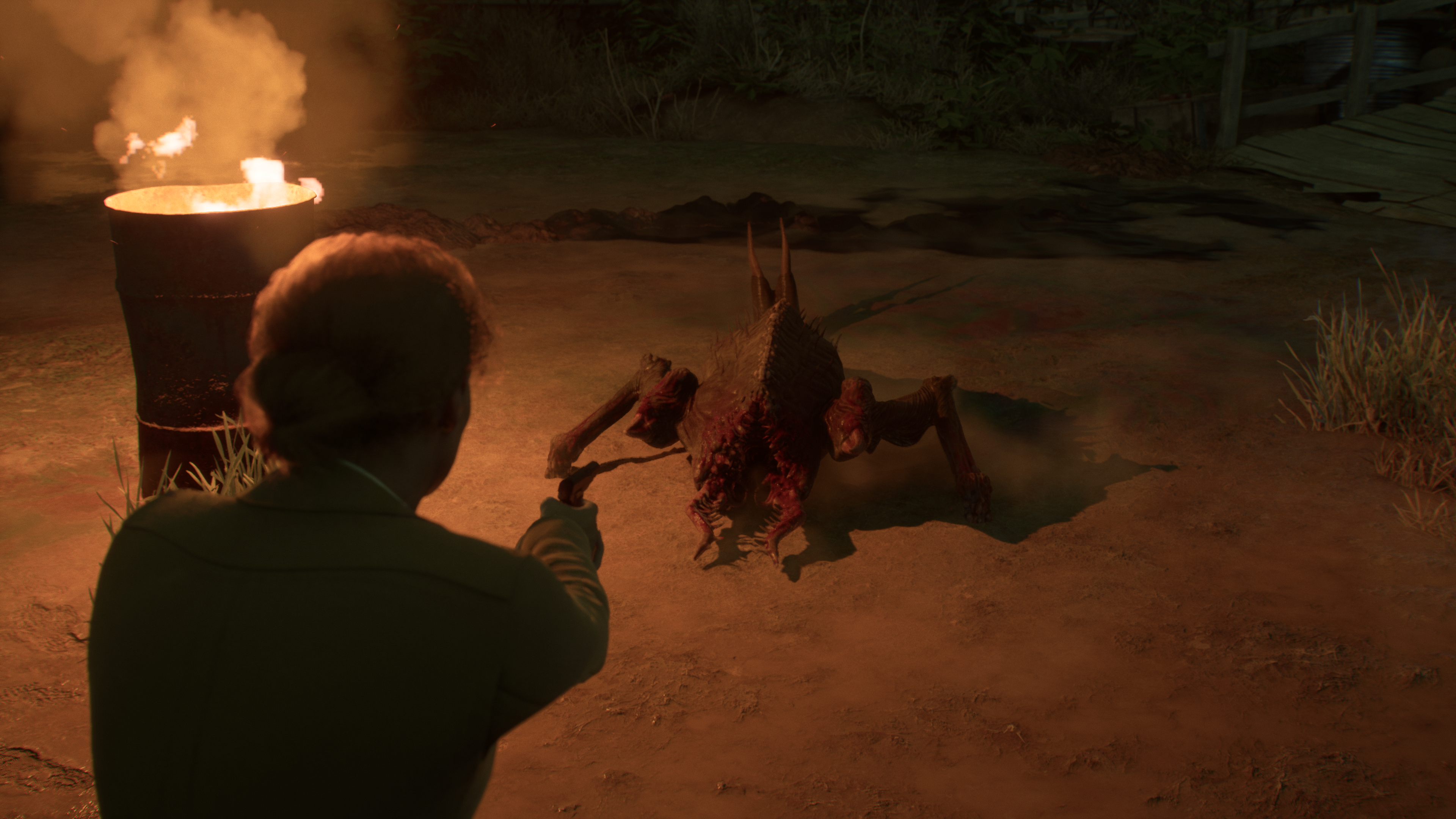 Guy Davis, a creature concept designer that's worked with Guillermo del Toro, provided monster art for Pacific Rim, and more, has given his talents to the game and created the monsters you'll see in screenshots on this page. Per Hedberg, he "had a lot of room to extrapolate from the inspirations of the original game".
You'll need to use shotguns, handguns, and melee weapons to fend off the weird creatures that are becoming a part of this twisted reality. In true survival horror fashion, you'll pick up what you find and fight back against the monsters that you encounter. There will – like Resi – be enemies that cannot be defeated, and so sometimes running away will be your only option. "Especailly when your weapons don't work as you think they will," says Paeck. Intriguing.
From what we've seen so far, Alone in the Dark looks like a fascinating prospect from a young studio – and a great way for THQ Nordic to put the IP it acquired from Atari to work. We're apparently going to hear more about a release date soon – we just hope the develope doesn't leave us (alone) in the dark for too long.




Source link
https://colab.research.google.com/drive/1NC1y6FeSGLFX87OQZ0CQskvPqjE5qOnh
https://colab.research.google.com/drive/1tF7dUAzvRnHa-TAn8hxf8_LScllWU0bJ
https://colab.research.google.com/drive/1-_l18YNVgysnvFNLiBxIE_sFsQi1ZCaH
https://colab.research.google.com/drive/1D0qkPkiQ6lTbKseaBGbmfsKej9NLpipm
https://colab.research.google.com/drive/16c_Rotp1ouKwC6TRFDa8QOSZLtNm5ctN
https://colab.research.google.com/drive/1Vtq0V9o_nPLssJgdKd-1JD1mDb4RIJxO
https://colab.research.google.com/drive/18-2pAK9vfWheJEkuIuEjlcI2BrhkUBnH
https://colab.research.google.com/drive/1vfbQvZR9ecFufNin_B63Iei3V3NyxF76
https://colab.research.google.com/drive/1n551X5ibuvAnTDNoGS4wAi_OMq10upqT
https://colab.research.google.com/drive/144E0AgfDNMJo0nQ6168ZXo0Twv7Kd0pQ
https://colab.research.google.com/drive/1UCOP1-ALtDIUVGJRavuWeQbgxhu54piG
https://colab.research.google.com/drive/1F-gfoW7d4UC0NOwHFI0W2SaEsNajn1ss
https://colab.research.google.com/drive/1fPfhd1s-TDxn8NXl7CZ1OwZMV9A5YUWn
https://colab.research.google.com/drive/1-Vty_3w82c004IiUi7jjRdQ9Lf0NtnjR
https://colab.research.google.com/drive/14urmJIRo9S2zrzl49k6MIY3zweI1_OsP
https://colab.research.google.com/drive/1ia26xjLdkdQSSCNfxYXKiEn4OOMOZHSD
https://colab.research.google.com/drive/1vK-788jKGxPirKAl4LcPJHUhMQ_QL0-h
https://colab.research.google.com/drive/1s68gv3Fxz1N9XWSXpodFk1l6hLMw2bNc
https://colab.research.google.com/drive/1u8HwIfg8hQLnu-wRrau-M1FHGOjI6Qav
https://colab.research.google.com/drive/1nuUaPnCYuYRcwC2a6ja76D21KVyZ8SOh
https://colab.research.google.com/drive/14meg2YQflWxMzo5YI_RgC63uPGs_s9AX
https://colab.research.google.com/drive/1xh3KZlcqLhmLcaDpXhdTbI4h-gugl5RY
https://colab.research.google.com/drive/1Q-0iHzEzaNf9y88_nUgOSp6Y1L_MTf_O
https://colab.research.google.com/drive/1MxBEhbqqsv_0qTd8p0w3jpiuvy4xre1Z
https://colab.research.google.com/drive/166jblFWCjkVwm0EggZu2Oej2PxdMfyaj
https://colab.research.google.com/drive/17fy3jd_3bRTTiOhmzDtBJGhxH9eKTOeu
https://colab.research.google.com/drive/1IqVdthwxOK6uGm9McAQrZ6_ahaL5VpO-
https://colab.research.google.com/drive/1XlA3U-O7_2lPjTQE208JREe0_sOAiMRA
https://colab.research.google.com/drive/1GYwAuvh4L_1wkyw6nGB4nOikwwZ7t1Wt
https://colab.research.google.com/drive/1lXL-MDEhZGNTYYtiY-2us195YwGYIaHA
https://colab.research.google.com/drive/1MyK2UCbfpMTzYRYcfzfyFi_AoBVV8gtf
https://colab.research.google.com/drive/1YMzjZBBG0XNzzjRIPNuhUuAnAAEEQJXI
https://colab.research.google.com/drive/1iQDbVnSNq4i8GawUGypZQDcqDlfIB0_1
https://colab.research.google.com/drive/1n8u7lSpenxVi0csUu5CgMkuwblxwPL9-
https://colab.research.google.com/drive/12qaUkWxXv1Pr8XSUA-AmcgqhRknIZfy_
https://colab.research.google.com/drive/14oFIQUeeZwLD_mQ3kawM-td_0pDHR_ss
https://colab.research.google.com/drive/1aYS5F-hLb5HZ8TNu9-Hxf-iY9pbidPA0
https://colab.research.google.com/drive/1jw7z67iFkmsReJBnzk6mWafNb_l8-diH
https://colab.research.google.com/drive/1ll69HIbrNUA5NoKfvfBRQFE4COe1aGmI
https://colab.research.google.com/drive/1SXC1HYlg9svN105gkw2gIfcN_MUS22YL
https://colab.research.google.com/drive/1WuFuQP9jxI-ImzwcMvF-_s0FmB0QdXU3
https://colab.research.google.com/drive/1b6zrfY2XzEjpxeGMvXv9B5RWYWaDnxS4
https://colab.research.google.com/drive/1AqJSSuL7SUiUBhqfQ3jIPXA-frupBJZx
https://colab.research.google.com/drive/1rBSw4vXbmvOSUOauh13Ilb0tI2inuDdw
https://colab.research.google.com/drive/1IQcZt5rbNtufgzNoOs1EDHn1U06_bLrQ
https://colab.research.google.com/drive/1hZESls1k_8MwQhlZFXYyKiJtqJ1Jizxo
https://colab.research.google.com/drive/1c2w6K114scGXyshn2XdZcPjVnao3QTAU
https://colab.research.google.com/drive/1PAMXy50ImF3HZYPky_8YbHjOgb88MScv
https://colab.research.google.com/drive/1Q792GIDKuI7OPO8meNpVS0JzOQV2mqpM
https://colab.research.google.com/drive/1DM72tbOfvwVtxkcxBhlLsgv7QYiqhU_e
https://colab.research.google.com/drive/1Zfv2iPUGQcogka5TAwZS0CmFuyint-4q
https://colab.research.google.com/drive/1A5qM3z5J_qmLmXNlx7xRJnZx29TGJSnx
https://colab.research.google.com/drive/1pM3PpIUTr4-BHELRCczLUOSZkhUG94ni
https://colab.research.google.com/drive/1upoDwMZkzmyyndoIhEm9COAq5Z78htzb
https://colab.research.google.com/drive/1Pfa9x9kFVkGlitYGEY2XjFPZot6Y4NcH
https://colab.research.google.com/drive/1_LYC9X4oDUhJ6T82L09pW5lgUj5YzLBJ
https://colab.research.google.com/drive/1I515Fh_HznP9ZCoZbCx_W98sYuYwfwWE
https://colab.research.google.com/drive/1vJ7oyLzhlMoz_OFy64nwFXpWeDsE_5r5
https://colab.research.google.com/drive/1OUj3EI3l8jPOeobdCi4w897NZBENCVbO
https://colab.research.google.com/drive/1Y6rT2GGv8_FpSU7iToQn0o5083tQQ7e8
https://colab.research.google.com/drive/1zATQv0bLwi5fe4leTPQRoIQvvjxW1klz
https://colab.research.google.com/drive/1KJfSeio6fhgeAxOiKwPF67DNP5V1sKXa
https://colab.research.google.com/drive/10jqUDPwbi5kTF03k_A6zHmFcsRAjVFd0
https://colab.research.google.com/drive/1keVfdHe4ztqlAVx4lztIvdKiDiSMF2Bg
https://colab.research.google.com/drive/1clWLr2ylxGDtiENxPTftPNtxvCOYSE3m
https://colab.research.google.com/drive/1ItjYQDBbCqTef3UHoxGXUA1hW9gRacUV
https://colab.research.google.com/drive/1n_pBDmqYulqBlRDeJZG2i_6N8aKaT63C
https://colab.research.google.com/drive/1jLCK2x0p9FJGlVqc4UlFAqAXdqmaTGE_
https://colab.research.google.com/drive/1C9x9kWxSYuTGY8j8OdQ3otgdNny2H2sa
https://colab.research.google.com/drive/1r4nw9ynRmRDShCg_Z9uENKrvWQI6FF6h
https://colab.research.google.com/drive/1-mqNLJB_zGhPzKelCFrcr0zQncIHD1lZ
https://colab.research.google.com/drive/1CwbgMGoEi45AIWVgJk2azrwgpT0_mLoL
https://colab.research.google.com/drive/1h90IeLJkZA5jOcDOeEnyIdl60YDIXyi-
https://colab.research.google.com/drive/1K1uT0CAexKibAnI14IaHeQIO7LfMxKdT
https://colab.research.google.com/drive/1jcJLbmJIZ77bj7Ynga0yjsnXb9tJXeD5
https://colab.research.google.com/drive/1AsBwJk3FtIdjbZk-ImfRCs_4iRdXBmaG
https://colab.research.google.com/drive/1f4cSONagqbhVklz5NQfypdydbVIpeiyS
https://colab.research.google.com/drive/1B6ZHMlaZkJ1SoJRpF_fpBVOXqzi1HeZW
https://colab.research.google.com/drive/14xdgHgJd21agtacb6zXohhwtrapITxsz
https://colab.research.google.com/drive/1XEBY13I8dVxlfiD1wJf1cLO7NzBpBdq8
https://colab.research.google.com/drive/1i_8T1MGyu9TMlnyx9bUOJu7DWr958UGs
https://colab.research.google.com/drive/1uMtjAOxowQDLM_ilYEJgHW6NY2mMYwhO
https://colab.research.google.com/drive/14yv2zl1do1QFl00_OfEHBnmyxe9M3jJQ
https://colab.research.google.com/drive/1Tbh1RT3zRZsFjvM7p2EVgKWQpYgefqE1
https://colab.research.google.com/drive/1_6ZTthGIkEV0aMMigQXW2IKYx0AalOdD
https://colab.research.google.com/drive/1Gqg2gE_y_WClAj_Vov1DfwV1w3qFy1Ps
https://colab.research.google.com/drive/1aa5wXSG6TO1hwt80C2oo3AIODGoIWfcb
https://colab.research.google.com/drive/1tlbQe-JUUmH_NLKOVv5k84_1CoCqzq_d
https://colab.research.google.com/drive/1ky6NhpQtqOBXNukT3vnjkm_eTcdyegbf
https://colab.research.google.com/drive/1Mm4RXxLS7CUcRRss6Cg-QNiw0q16PQaH
https://colab.research.google.com/drive/16a4QFK7Dp4N45Sx6hvfmB4qFDORhaGSK
https://colab.research.google.com/drive/1FjbPX059t-uSh091gpltCWIrt4FVKwGG
https://colab.research.google.com/drive/1Rdm-SvuBKRq6rzCEn4uMueFcqSvHDWSL
https://colab.research.google.com/drive/1qZ9QvwyTwHoF54WZ54veZVP3Sx_gvYtn
https://colab.research.google.com/drive/19_3ZPbrtSvTdHnCXaLTPivzH-vn13-cu
https://colab.research.google.com/drive/1JBEqjKG2vid-iS5S3HV9iP-ptuya164F
https://colab.research.google.com/drive/1KG2GbUAGd7lcL6IL6HZTilECFJ0fNYqp
https://colab.research.google.com/drive/1UIhb0MVBk9thwDRgvdLzW7LsNGmyt3w9
https://colab.research.google.com/drive/1Jfw6Uk3qUHtuipTAdRuILUm5TirH8EJW
https://colab.research.google.com/drive/13IhokOhiefMM9-vR4jwWjl-8hScyGixZ
https://colab.research.google.com/drive/1capSn0KCQWS0VSPoglKKJIqHJKB0rhg_
https://colab.research.google.com/drive/15K2Vm4Cs507nhgg5ujcZyq32gH8TP2QB
https://colab.research.google.com/drive/15m1IBv6M0lt0HCFGgMVw0gS9fQQA95VW
https://colab.research.google.com/drive/1z8F9nQZ-kvcXZr6h9KJEUeJY-V8u61S_
https://colab.research.google.com/drive/1qp6Zu1o0pvi9St0liQ5uO4LkiboLrI1f
https://colab.research.google.com/drive/18T41WkA1V4-DTEXf5zRc7SZxgkYF8agB
https://colab.research.google.com/drive/108ZFohWWe9Ev_cOcOOniR10IdGTL4CRh
https://colab.research.google.com/drive/11-PdbxuJJVr29DkKVWr2XYd3xHA-ETnr
https://colab.research.google.com/drive/1BARaeYYJu8OMTZRGzSzFEK3YXzFCy-b2
https://colab.research.google.com/drive/1eiyLbg2H6jmDj7OXi_OMlPClPayBP3AG
https://colab.research.google.com/drive/13o83BxvK95HasnOv7wFj5qFnbT6hCjM1
https://colab.research.google.com/drive/1E5HrLWkMW-5DclOgOGH0ilCZEUe8flL8
https://colab.research.google.com/drive/1pRSq_s65lPJbsLLWnD6tNBzzK6xpOYuX
https://colab.research.google.com/drive/1S-bG7cqPMlNy_EhIv62ak0yR2Y6jRlj9
https://colab.research.google.com/drive/1Or15O7s9Djlt7fa_Q_qMG8uVP90fe1uT
https://colab.research.google.com/drive/1PaF1Sd_i78Ysdmin80o-KSentjJKjvs_
https://colab.research.google.com/drive/1QrvZKXXwfPrFXYJOJ08RBSqeWS0Jjlkj
https://colab.research.google.com/drive/1ubYNf4WfII8G9P7VAET0E0hWKWwJPqLz
https://colab.research.google.com/drive/1gs3tzgyGatEcNk9wUfo8jnjIHGddvqZg
https://colab.research.google.com/drive/10VwU96LFVEVGSHou83eM0Xrb_IpW-3Nu
https://colab.research.google.com/drive/1pexqYbdJYIWDAEtsoiwZKJ5jiRyBH29g
https://colab.research.google.com/drive/1O_ROMtCbZQ20knmrgm-1Qq-i8QP75cWn
https://colab.research.google.com/drive/1ihgjyFy3LOL1EaM4NJluT5tPablyx1iM
https://colab.research.google.com/drive/118JZ9mKRbkPlXlK45rbuxbzHcQ8E-JeG
https://colab.research.google.com/drive/1aL9VPVx2miTRsm8d-TbB5oBaA1brRdfU
https://colab.research.google.com/drive/1NgtRFcd3GSSacg-VlSODLhyhODCCTjwb
https://colab.research.google.com/drive/181UsukBGhKl5KD8SKGBnXbsiv48C8_bD
https://colab.research.google.com/drive/1VSQo5qQolg_4irob-q2PgEvUff6Z2nhR
https://colab.research.google.com/drive/1uePY8ZNsVmzeVLkT8lWodveSxCUtYPVN
https://colab.research.google.com/drive/1ZfY7oCWbbFeKT37krYsb86u74afnbLKe
https://colab.research.google.com/drive/1adphiDXzRrKAOVWf8_4Ko8z87JfJ7sP_
https://colab.research.google.com/drive/16LQyBKPOVBKxXDO6yUIB3XJU-LzXXKcp
https://colab.research.google.com/drive/112I8Wm7Z7qp5zm_9YpSH80IWiGCd-Lq9
https://colab.research.google.com/drive/1R2lznoyNz6lANL92TBCW63GkN414u5FH
https://colab.research.google.com/drive/1PmbzmTtkaReZ1Ii2js9FLTUkEOHfrGF0
https://colab.research.google.com/drive/1YB7zcJRulxY3YEBkcOxJRuJ5h9oshERR
https://colab.research.google.com/drive/1EDDkz0C6pu4Zy78NweP0a7HLbrsPnkdk
https://colab.research.google.com/drive/1Y-qEkqQVhVZQzAGbmxaLMfOdpqkue37g
https://colab.research.google.com/drive/1pxBRokRJ2SNlDaNbtC8RAgB-_wzLmsUx
https://colab.research.google.com/drive/1-TX1W915Rcyx6Jzb8RXeBccE2_mmYskL
https://colab.research.google.com/drive/1_Gx6wnSzQGqQ1DFwuh2Vtk4zdnSjJqeM
https://colab.research.google.com/drive/1YolD7S3pNDPuDG7ciRPWstTtspptPgNx
https://colab.research.google.com/drive/13975iEOXqt2VI_DT5EfvFI3C9HHzAbIH
https://colab.research.google.com/drive/178k9njka8TX3aUeEKz63ojfOde7pRPJz
https://colab.research.google.com/drive/1uFlimYuthStTp-A9uYDbi2qQ2dqIEWtq
https://colab.research.google.com/drive/1pmOp9JM_jo4hoHvfIjz1znRs3L_x7bz8
https://colab.research.google.com/drive/1OythiMPQEf6kIhG4oLW8GWDLfVvAPvCs
https://colab.research.google.com/drive/1vgZ6J8wHz10eq-Y7qy2R-J7pLPKaN1GV
https://colab.research.google.com/drive/1imnKw2wkbRMV2aHcznYEEMQROpKzuG29
https://colab.research.google.com/drive/1CtzpuJrqLcAvRhgzH_tdPhdsryz-dFZa
https://colab.research.google.com/drive/1vplKKqKhtUJkcs57zyBbuerVeqxNFvMM
https://colab.research.google.com/drive/1fw-94W5VqE-SPvqnMVrLer_nTsqRdB9k
https://colab.research.google.com/drive/1X7YWuSN3Lx4A0JCtNIb4WceS_fkPal90
https://colab.research.google.com/drive/1EOuJqv3rnazSL1aA0FFccAIk-k0POFQq
https://colab.research.google.com/drive/1DWpgf5L5N3WKMRS1cYdNLDKV6JLygyzA
https://colab.research.google.com/drive/17lyJ4EIxI-ScMDIG_QHMcv_tKRKY7Q0K
https://colab.research.google.com/drive/1UvMnWAYTru8VmpiE-Qd8fEak6D3Ybh9t
https://colab.research.google.com/drive/1QMX-yXg3O3CDLiZXRZKCi_3E9FF7RrJg
https://colab.research.google.com/drive/1SOWOihJ1jOp1eYq08P0dZOe-zZLlFkkd
https://colab.research.google.com/drive/1k0csXvXIy3x3Gxf9KdeB9SKyAvFxYxb-
https://colab.research.google.com/drive/1L1BUjiw1DDiBigMFetdJZxyEpLw4KOxe
https://colab.research.google.com/drive/1G50AmuxNMnkXvtVgfM6oQYyB1NCmXGDB
https://colab.research.google.com/drive/1WgU6HhoJWgmhCXJ0kCYSr5frOLDbQRLv
https://colab.research.google.com/drive/1pPmITDLxWMuPOnjyBtW67fwGMxkpN3Ln
https://colab.research.google.com/drive/1GGT8PVXR2dGwMrXpGBprjkruYAq93kho
https://colab.research.google.com/drive/1O9wyEhoUO_zP-uNhG1JkkCO4o45Ek9Dw
https://colab.research.google.com/drive/1APo6G7f2zd-_7E-YmYbgzkKQrYvfg-dH
https://colab.research.google.com/drive/1tvUw-vhgjRQLVRg3CR3f8ff6itA9vJXU
https://colab.research.google.com/drive/16zn–FJqEAu1R5jGeu4RemKAN5qQO7Ik
https://colab.research.google.com/drive/1Pe–wd_GJctd6m1TxUljWjayS1QR-8GZ
https://colab.research.google.com/drive/1dsZl1DmyvFYw8K19YEhgULGkRU4nZMAO
https://colab.research.google.com/drive/1lROZ8Ot2c2Cypj8k5-9TxfsP5GBip1Ko
https://colab.research.google.com/drive/1Qnmu3TekkF1dylG94uVLDt7MwVpxG_8L
https://colab.research.google.com/drive/1OpWF5l01AkboWju_hxjUDWwZvRANQPd_
https://colab.research.google.com/drive/1oIOi2MeUVU5cnNARTusvIXtp-WC3ndvS
https://colab.research.google.com/drive/18x2H5k-sVC_3diY2-nIYj4ZWT7OTtqxC
https://colab.research.google.com/drive/1RzAuhAYGpBPl5VCOHnQ6hT3g_kelrwD4
https://colab.research.google.com/drive/1sD_OWOt-kDu5213Hfdwge0YTurOBnsil
https://colab.research.google.com/drive/150AEuULI9gaz7X-KziKTlh3HeVP6HSZZ
https://colab.research.google.com/drive/1Puz3w0fd0bbbPex4N0mPBZP1X5a9BHWv
https://colab.research.google.com/drive/1PHHzdYogDyOJ6gU5zg-2BaQbDCRYuSFH
https://colab.research.google.com/drive/1pi5bz47hfJdlPnvly_39xmLc-GtaoC3Q
https://colab.research.google.com/drive/1XUN_7pZ_k-E6z4fZuzv4jKjnv1xVqpNY
https://colab.research.google.com/drive/1USotNgrijgr–3dTtAP6MUDWjlqJzUBq
https://colab.research.google.com/drive/17GlWQgXtvZS4z5TbTX5PyTKIU_UmqoXZ
https://colab.research.google.com/drive/1fNYQFNQfl9KLSc9O0aBpe92shoCuhzL7
https://colab.research.google.com/drive/1_yB3x7vkKTPXYsf6zDeXNfAD_k5_Qalw
https://colab.research.google.com/drive/1BTrQMp5crHgBuakTQ9qmp1xL_d43valD
https://colab.research.google.com/drive/1038zF2YFjSDpv18ix9K45t29RTwBu99L
https://colab.research.google.com/drive/1aMXAQ4wOPH0AiQ86Nfb_KCiP_HUM8_A6
https://colab.research.google.com/drive/10a22btwQcRxxZwMBzD5UQvQPO7aTtZ2J
https://colab.research.google.com/drive/1N1gld3QxJZX_jvr_g1kHny1Se1wiAtO7
https://colab.research.google.com/drive/1FZTmsuZcv1_SZ1_sKz5Wgm8S5ZjgrvWO
https://colab.research.google.com/drive/1ctwuZhdyn8jXPD3AVCPClYdnREQBStzZ