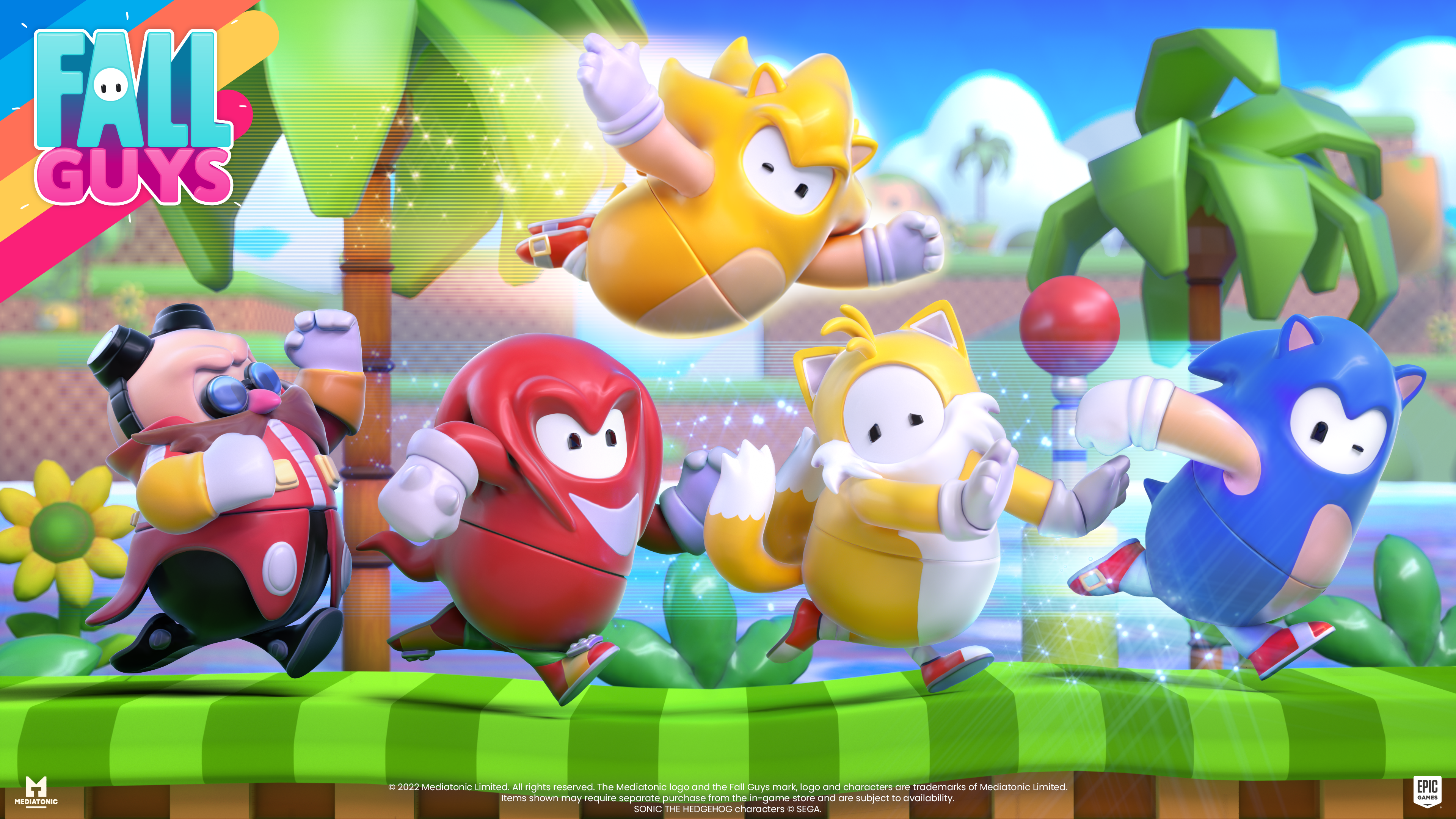 The hype surrounding Sonic the Hedgehog right now is relatively high, especially given that 30th anniversary celebrations for the swift hedgehog have been underway for a while now. We're also still awaiting the release of Sonic Frontiers, and it was announced just yesterday that a third Sonic the Hedgehog movie is on the way!
So, it would make perfect sense for the blue blur to make a cameo elsewhere, right? Especially given recent leaks that the hedgehog may be coming to Fall Guys. Well, that's exactly what's happening this week, as Sonic the Hedgehog and friends speed into the world of Fall Guys for a limited-time event.
Take a look at Sonic Frontiers!
The event will begin on August 11 and run up until August 15, 2022, in celebration of over thirty years of Sonic the Hedgehog, his friends, and even his enemies.
During that time, players will – obviously – be able to get their hands on some adorable bean-sized cosmetics that turn your standard Fall Guy into Sonic, Knuckles, Tails, and even Dr. Robotnik.
There will also be an entirely new stage, known as the Bean Hill Zone. This level is Fall Guys' own rendition of Sonic's Green Hill Zone, and comes with its own set of challenges. Namely, speedy beans will have to blast through the course collecting as many rings as possible in a bid to unlock rewards!
The rewards for collecting rings are as follows:
"Bean Hill Zone" Nameplate – 200 Points
200 Kudos – 400 Points
Bonus Rings Pattern Outfit – 600 Points
400 Kudos – 800 Points
Sonic Sneakers – 1000 Points
In addition to the new stage and the Sonic-themed cosmetics, there'll also be a new emote available from the in-game store while the event is running; the Sonic Tap Foot emote.
Will you be speeding around Bean Hill Zone for the event?




Source link
https://colab.research.google.com/drive/15gfUQk4Ni0Qb-iGg2XJSClMT6z6n-ud-
https://colab.research.google.com/drive/1vG0CkZtP5C7YX4i-iwPCju9OBm6IF-3B
https://colab.research.google.com/drive/1pSpEzCF4KbV4Hw7bEwBe6B6NqcqjjPfP
https://colab.research.google.com/drive/1afBtSR690cDYcQpehSp7OVDVWzxam45D
https://colab.research.google.com/drive/1Y86k_ZNAmpY41KKEnE5uNM52GqgUj3c_
https://colab.research.google.com/drive/1zmfO2QxFxxQCbsSwceiW-j4DVttPkleU
https://colab.research.google.com/drive/1KXitEfzosDdlSSofrGIxLb1Eg_8W_nFe
https://colab.research.google.com/drive/1SSeYUUG3dJM4ThsTeZNYnjxBxxDmJQkV
https://colab.research.google.com/drive/1G5oXzrvnCbM4x2YQ08uFUJL8FCCcwxwb
https://colab.research.google.com/drive/1YNeA7oIcV63aTI7NcOkmSUr3bwa9wIsS
https://colab.research.google.com/drive/1YzpX-ZqpxObutpVWViwoHeylF-57iDZr
https://colab.research.google.com/drive/1J1hl4sGLZ6OV9aXL87lbz9K7DVkrK4hE
https://colab.research.google.com/drive/1LVcQwOUdsVGcIJuxYnm0edro78Q_jTyy
https://colab.research.google.com/drive/1kUdJF4xHM84z_4IGvIEJx4jt62kJDOdS
https://colab.research.google.com/drive/1W4n3XRXH2IzTToY-Rj-lnOdAP8r2BzQW
https://colab.research.google.com/drive/1NYFPgQpktNphx8W2tH_1LJ5O2WUtI4oX
https://colab.research.google.com/drive/10PEHT4-SOc1YPaLm7hsRpyjtdlU61id7
https://colab.research.google.com/drive/1aLcHwY8rqfsfMl41Hqhgr9a2D5R_kZNT
https://colab.research.google.com/drive/1_9p3gXpUZV9fAN8oRHznjBPMNesNEeAO
https://colab.research.google.com/drive/1jnw6dVy8E-xZ_F-SthRLM-0enfnce300
https://colab.research.google.com/drive/18-eHhOdlWqBo5m2SoYk113snvlryVV2K
https://colab.research.google.com/drive/1TqdNDI0Tz4OEs9JKJBketFWzFjuRPbs_
https://colab.research.google.com/drive/11ri8jWNTvFKSb8yZPY-CPQp-dWfJIHy6
https://colab.research.google.com/drive/1LduiMT7zIXDEqHqhNrcuOO2RH7AKZ35H
https://colab.research.google.com/drive/1X8iRNXsTNDzHQeYQnbFVHFjJW71aQBhv
https://colab.research.google.com/drive/1xw6X7V7HNIZq3Jh-iFPgupBYeUabTkG_
https://colab.research.google.com/drive/1KMEAdMzF77nBVh3EpEW0kIBpCZNhq8lo
https://colab.research.google.com/drive/1soF7m8eNeCVJiklYkQE0_g7JxtU8YTLu
https://colab.research.google.com/drive/1nz_cFHCASrtdXBFM8sp-gxQkcJ_Xhg-u
https://colab.research.google.com/drive/17p_g8tUHDYsHyhQ07MMPnmtkfnCcDuVX
https://colab.research.google.com/drive/1kP5x1ZTv_V9Q6tXpELFCrAWRCBXDEfHi
https://colab.research.google.com/drive/1gWWzrJJG-58vbpYKjRVQt61wdgk6hL5d
https://colab.research.google.com/drive/1iFkgfe-tTBsS4STyJOxaSdaBLLxPzrmx
https://colab.research.google.com/drive/1Xstiah8nw8NBASjP_KodLxceQzmuopzg
https://colab.research.google.com/drive/1gII_a7JJFMcBkqeRpRLB2T6ZNV3uQV3s
https://colab.research.google.com/drive/1o63i0KCSId4pHGwnGJi99-GAW-x0GRnZ
https://colab.research.google.com/drive/1lYTbIybTYDnLFzzYXdCANJIzyK8gr_8Y
https://colab.research.google.com/drive/1GIacMaumAWcBl25WjMqXDTxvpT-1LZBZ
https://colab.research.google.com/drive/1RyS2a_pMIA-QM-05ACtDA5L3x5P6lOT4
https://colab.research.google.com/drive/1QGiLsclNd9vcOQyXfBaf3XphousxYlfD
https://colab.research.google.com/drive/1_lvUPhoLNkanGhuUmKckAxjTsoN13Ek4
https://colab.research.google.com/drive/1YJt5NGjGDj4evtSS8Z0U5vSbT49HIpgZ
https://colab.research.google.com/drive/1Xg8GyQ7d4iZA1cw1nOA8HT_SO5H47pTi
https://colab.research.google.com/drive/1ut3g5pcJvZNiYVlmLLh4QTJ_iOVka3Jy
https://colab.research.google.com/drive/1QrNhosF4veZnRrHcdbmSgzBkvFARTnIi
https://colab.research.google.com/drive/1OBR2SpQ-9R-mNnnDAFqRpPLO3pq94W4j
https://colab.research.google.com/drive/1ASTbGm0u3ztUFNIzYe1O6Sp6y7qyzo1u
https://colab.research.google.com/drive/1t9FfCEO1GMuLBcB9dkyt7LK6APYCxVVW
https://colab.research.google.com/drive/1rI2aCjH8aVr0XhFDcW1aqdV1Td9vhAdI
https://colab.research.google.com/drive/1NhU3a9zcpnZx5guQdiACXcoeTPpd0N1z
https://colab.research.google.com/drive/1Sn2nv9UPWBr1Jm96IvNcOnOlnf71LCcw
https://colab.research.google.com/drive/18HrHJifMV6cg2t1YoUHUAxJtnHF6xlIY
https://colab.research.google.com/drive/1GSC-K9giYvwzFW7v5dmUxDXmOe7Pn8Wj
https://colab.research.google.com/drive/12ra6yFo3hijaXgFK8A4y8kMROueeB3CG
https://colab.research.google.com/drive/1MwuyMYC7t28aWgEJ1SdITse_eE55DhI1
https://colab.research.google.com/drive/1l1whpPwnT-mmf3ed1ulcC8lvsgahNg3q
https://colab.research.google.com/drive/1XykPPCI_CZXVPWgcPhHcmUhbVmioBvZx
https://colab.research.google.com/drive/10X_2iO3IfxBba1fd09a86XkGXYMm6l8r
https://colab.research.google.com/drive/1IvyZIJrHV9ZMQEDKAXHi3tPOppHHthcj
https://colab.research.google.com/drive/17dBEC3yXE41Ap4FnPd9YwYleyEbm63qg
https://colab.research.google.com/drive/1t16GOJcro_khsk5maxYVg3PHwTG3PmL0
https://colab.research.google.com/drive/1-jl5t23behLLPhI0RZ-ZQFnsuT8TK5Lt
https://colab.research.google.com/drive/1EPV7Kxc7evGY6NNIovIIXOt5MGbJKW0t
https://colab.research.google.com/drive/1n8j_itEugnZkmGOXmpPTM8fLN-CWN19O
https://colab.research.google.com/drive/1DlxzY8h0R3fqaPtgcXh-_d24igYhAqk3
https://colab.research.google.com/drive/1_lq4IWtPHDXcBeWeE8xi76UWKeB8i9sH
https://colab.research.google.com/drive/1eGZNCIaikqIrq_inKo-VXz4fl4TKrGtv
https://colab.research.google.com/drive/1LnmSffIGOZFW004f3qz5eglUPJctpcne
https://colab.research.google.com/drive/1gmmNWlcXgjp45KgMMyXjdbmZCkE8BwT6
https://colab.research.google.com/drive/1VN2ECk_PKLYtH9CYCKxdTtylq-hVajp_
https://colab.research.google.com/drive/1oAsNptzKN-Lcg1gP4Z4bcj96079weDGf
https://colab.research.google.com/drive/1_mzZhaglZ5-S-KdOq9IPBSVJ7Ii9UGQg
https://colab.research.google.com/drive/1dbnc1eTbJomrmJYSzdvrQblv_cpVjtcQ
https://colab.research.google.com/drive/19g3hJPpGwm0tp6xqD1r04wLYOB93iHNA
https://colab.research.google.com/drive/1y_9kt95oJ0PMvegrGOmHceNQA00MDEX0
https://colab.research.google.com/drive/1FkEzuLEkpWAZJPS-O4VZq4R11gi6Mfzp
https://colab.research.google.com/drive/1Mh2h6okofoLVXLpnS4qSr0rTRLJsMHCn
https://colab.research.google.com/drive/1e8wQrIm87BO6zi2qctXFDVITbGPQirBN
https://colab.research.google.com/drive/1sfuXPsvZyGbgk8CyUn1iaMPWhX2VO3OO
https://colab.research.google.com/drive/1JJG8MgMYoR_EdyZFDBqs3Phya62byn5z
https://colab.research.google.com/drive/1hnZamkmgGclwN9B2xhywY3BVENAbs57T
https://colab.research.google.com/drive/1DWBzzQ7WDDvPd_P3c085Rvi06myd5hx-
https://colab.research.google.com/drive/18mzFvFwbV-kM6Od4pOR53qw1nVuo992F
https://colab.research.google.com/drive/1zpib0U-c7JJs1PviSYjjIfxlFqFba9g6
https://colab.research.google.com/drive/1_ZTpEFNLCgFvhqDcXFP0Jr1256C3bAAW
https://colab.research.google.com/drive/15NV9xVitjHxPdI-QGOtRmPKH2TieKPZO
https://colab.research.google.com/drive/1vmHYhrvEF2tVdtJP7EhgDNlMJeiEzuuO
https://colab.research.google.com/drive/13P_bsjDbP0wyROJsnpyuzLrheWR6AFDh
https://colab.research.google.com/drive/1bO2Y5oKcgytjw0niSdsk-LdIPZlhqGOl
https://colab.research.google.com/drive/1k89sfq_jsVop2i05W-a_9nK-ej56asFE
https://colab.research.google.com/drive/1kmTPE6v0TzqfKeapvY9Hd8VxPMiDt62G