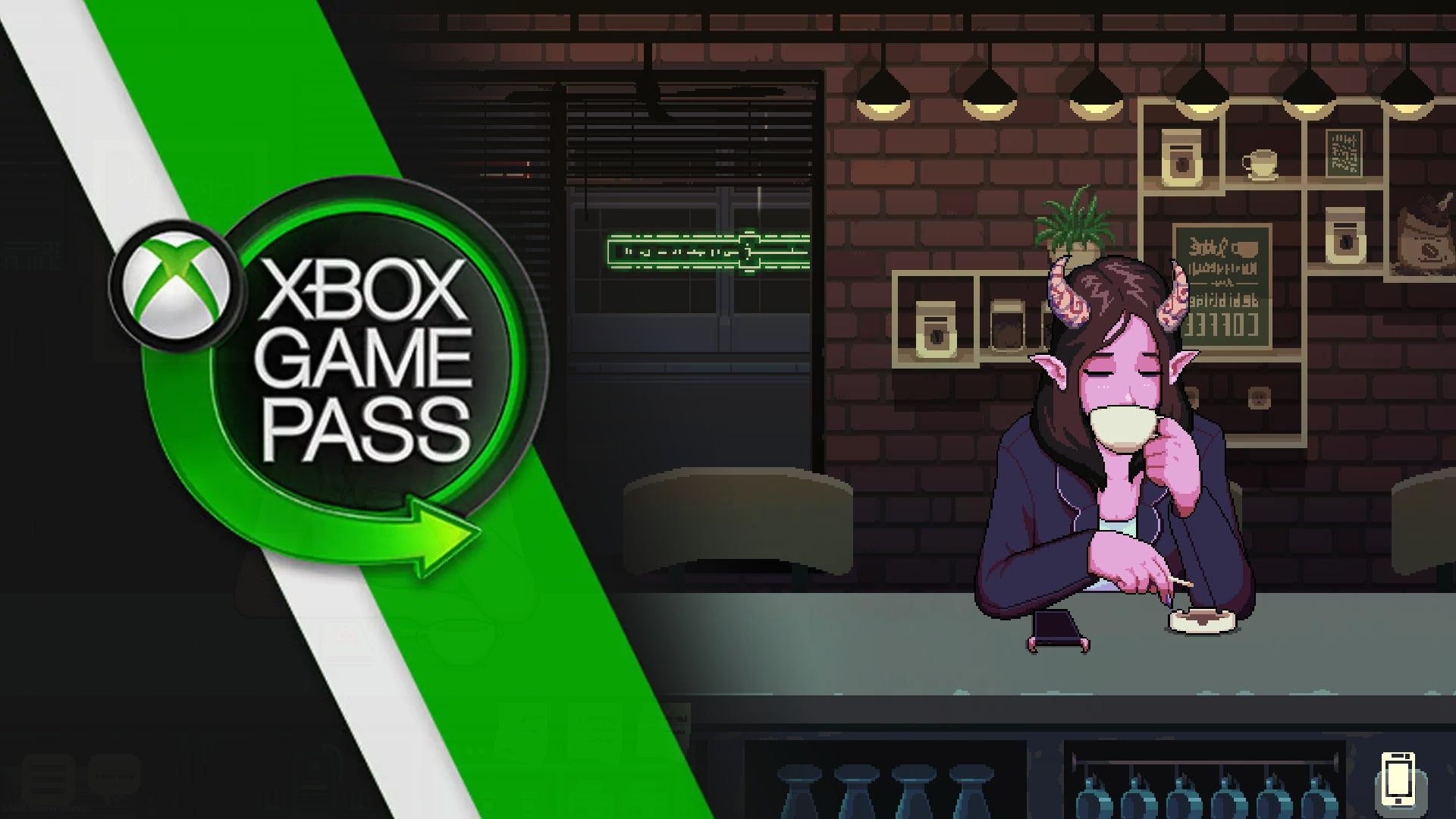 Coffee Talk, a heart-warming visual novel with a large fan base, has been added to Xbox Game Pass as a surprise addition today.
If you're attentive enough, you'll have noticed that the game has graced the Xbox services before – it was one of the games that came free with your subscription back in June 2020. It's a similar game to the sublime VA11 Hall-A, if you've ever played that.

To see this content please enable targeting cookies.


The game sells itself as a "late-night café game" set in a sorta sci-fi version of Seattle – but it comes with a twist: the city is populated by orcs, humans, elves and other assorted mythical creatures. The game weaves in and out of the barista experience, casting you as both a coffee expert, and a friendly ear for the human and inhuman residents of the alt-reality city.
Set against an aural backdrop of lo-fi beats, and brimming with cosy and incessently pleasant converastions, the game celebrates making you a mute observer, looking in on the lives of many people coming and going from your humble store.
Just make sure you brew a good cup of java: the better you make the coffee, the better mood your patrons will be in, and the more positive their conversations and general outlook on life will become.
Xbox Game Pass has a good history of adding games out of nowhere: in recent months, we've seen the excellent Garden Story added to the service out of nowhere, and there's also been the likes of Generation Zero added with no notice, too. Earlier this year, we also saw the triple-threat of Gorogoa, Olija and The Pedestrian.
Plus, as a bonus, if you're into achievements, you'll be pleased to know you can get a nice 1000G in about four hours (though we do recommend staying put for the dialogue and not just skimming over it).
---
Coffee Talk is available to download now via Xbox Game Pass, PC Game Pass, and Xbox Cloud Gaming.




Source link
https://colab.research.google.com/drive/1ODd3_DjhlFkitr-LsztFNIHoJKfvIeAP
https://colab.research.google.com/drive/1Tx14zcGeVO6N_5rQeKqTwsZ6aRTUeBIk
https://colab.research.google.com/drive/19thHNyp5X2P0_u6hByoFda_TCLZdXH2y
https://colab.research.google.com/drive/1JmzDtBOvVSRtqfS-QE9L2nktLdy6F7X_
https://colab.research.google.com/drive/1gJF5swWHcDM7MYeRQgyVCGlDvJfTNn0h
https://colab.research.google.com/drive/1srRh4FJTN70P_tyk_AynuMbO6iccVE8g
https://colab.research.google.com/drive/1FsJCYnQ2HY3Gf7UsO_PUt2FXUokdiTMt
https://colab.research.google.com/drive/1Klu9RuSjXJHKBjWhpX61cb5qyKK_8nuN
https://colab.research.google.com/drive/1Wxetvo-7ddvft5lPT7bmQJJVRzKj-9Im
https://colab.research.google.com/drive/1d_NV3mIoDLTg66YxAVITFkpyyYemyOtT
https://colab.research.google.com/drive/1eXlqhff3UqeabM7Lzei_QD7NAjL9bFAf
https://colab.research.google.com/drive/1oirhzodmZezPgiZSn0FuWsK-NIvN3a_A
https://colab.research.google.com/drive/1BHiDvWatqV5kDl5sm45kXzSHQ854gLec
https://colab.research.google.com/drive/1FlpiPq-oakOF9iX86_sa9x-NPzWD0niA
https://colab.research.google.com/drive/1HWLiZtkl9V6zWHzl2OjjMnGejZSBp0hl
https://colab.research.google.com/drive/196qyYlzKN-318QqlecPRolUJGIbJ_QYK
https://colab.research.google.com/drive/1694XGfqkcApiZcJGdHHAL9c-W_25msAV
https://colab.research.google.com/drive/1FKhs_qX1yUPcfzD7L3PGmxS3q3jwOAbn
https://colab.research.google.com/drive/1N8GVR0e_8V21updOD6jFbketdC9g_XF0
https://colab.research.google.com/drive/1FHkAg6buoh8BgSPvoqpJwUtJylJRqtc6
https://colab.research.google.com/drive/1FXKCPUkWAMtQRnslFPutuKpOJWSAg0bi
https://colab.research.google.com/drive/1_ESPWmu7GAr9Xq2AqP8369Kph08EvkSp
https://colab.research.google.com/drive/1uab55ktfa4ZBzQGELjXpVSQe6O3egBRo
https://colab.research.google.com/drive/1-guBciT62vhvWE-N6n8fAQLfnku_09IY
https://colab.research.google.com/drive/1ntDQULMO5RESCQ5yrn4ialSp9LHuGh0j
https://colab.research.google.com/drive/1azf9lVktDUbhgu_xp-IJNMGhDYJQuXi0
https://colab.research.google.com/drive/19KCl2y8Fbg6ffP3CQA2V04v81FIDNEsY
https://colab.research.google.com/drive/1K00eZi4UKVen_T6zmaNylCZL4YoTwJRv
https://colab.research.google.com/drive/15VQCHMUynm4M6TVbddljGfsQHxeX09XF
https://colab.research.google.com/drive/1Ix2Yw2uH7_C7SveX0k_QBmaSbQo3lrwT
https://colab.research.google.com/drive/1ticOIvFsnTQzYz3zDHHUr7CfBkV1azSf
https://colab.research.google.com/drive/1xoDqUu_P5u548aEAJUC6Ef94ZVzD97P8
https://colab.research.google.com/drive/1jiexN-6rfZpsJz_5Zc8cgHkJYhQpAGUq
https://colab.research.google.com/drive/1F7XPk1pmnJspacoe9z6BXRJgA8UPjg2g
https://colab.research.google.com/drive/1ijIfT7Bst0sCEyyRUspcoPHO2czRpefc
https://colab.research.google.com/drive/1VPMO62PWiX6dSI8cSgFP6rLZBpw3Ryx8
https://colab.research.google.com/drive/1iwcyDwiPs-sKYqbTFaE7ZC4Gx-Rgx1XO
https://colab.research.google.com/drive/1Tca0KwOYfmNq8iuv1HZtJPFy955RJnHi
https://colab.research.google.com/drive/14w2c6qOooTgbTngFrhdW8_6aubuO-mw_
https://colab.research.google.com/drive/1JCdJvkfo_atqsOmN4rAl-W-IDPIERSyp
https://colab.research.google.com/drive/1KFK5rTaJKJl_k5AeQhj-UU931qYL-3WJ
https://colab.research.google.com/drive/1Aw3iPQmPs8Rmx1O8GXPcK8K13pwOWTOv
https://colab.research.google.com/drive/1tuShXRMB6zDIvrOdY8HUyYOiUbSBgyxY
https://colab.research.google.com/drive/1r3bPX5vhREUOGr_TRHc_Rj56BuzYEPpL
https://colab.research.google.com/drive/1FGAdDIGu9Yi_I6djBNouyGGZVyC31xhe
https://colab.research.google.com/drive/1u64SV2J75gOyom0ZE6Qvn31RLX3f4-0z
https://colab.research.google.com/drive/1oT_HkWqo1HihoDcC0xhXESMnNeWiDaao
https://colab.research.google.com/drive/1UkVVmZ3nnVLK8cO_qNUhtuBOH-FfEz_Q
https://colab.research.google.com/drive/1NFnvVhlrJ2WEckPPb8uvPpw_hcduvavx
https://colab.research.google.com/drive/1Io_IYoDtQGZ_JBhHQ8tdc2KPkxzzY5xp
https://colab.research.google.com/drive/1hZaMPHuYlxNJc8SI9QV9BZrTXso7PnaO