Valorant announces new Champions bundle, event pass, and Twitch drops, here's how to claim
Over the course of the past year, multiple teams across the world have gone head to head to try and claim one of the 16 spots in the Valorant Champions Tour. This is the ultimate Valorant tournament, and will be kicking off on August 31, running until September 18.
Check out our thoughts on Valorant's latest map, Pearl.
To celebrate the tourney and all those involved, Valorant is releasing a Champions 2022 bundle, a free event pass, and various Twitch and YouTube drops so that your average player need not miss out on any of the fun.
First things first, the limited edition Champions 2022 bundle will no doubt go down a treat. The last Champions cosmetic we saw was for the Vandal and karambit, and it still remains one of the more popular picks among players because of it's exclusivity and slick look. This time around, we're being given a glossy Phantom that I have no doubt will be just as admired.
There'll also be a flashy butterfly knife, and any Valorant player will know just how popular, and distracting, these fancy melee weapons are. To add to that, the knife will also have a special easter egg on the effect for the highest of fraggers; keep an eye out for it once you hit 25 kills!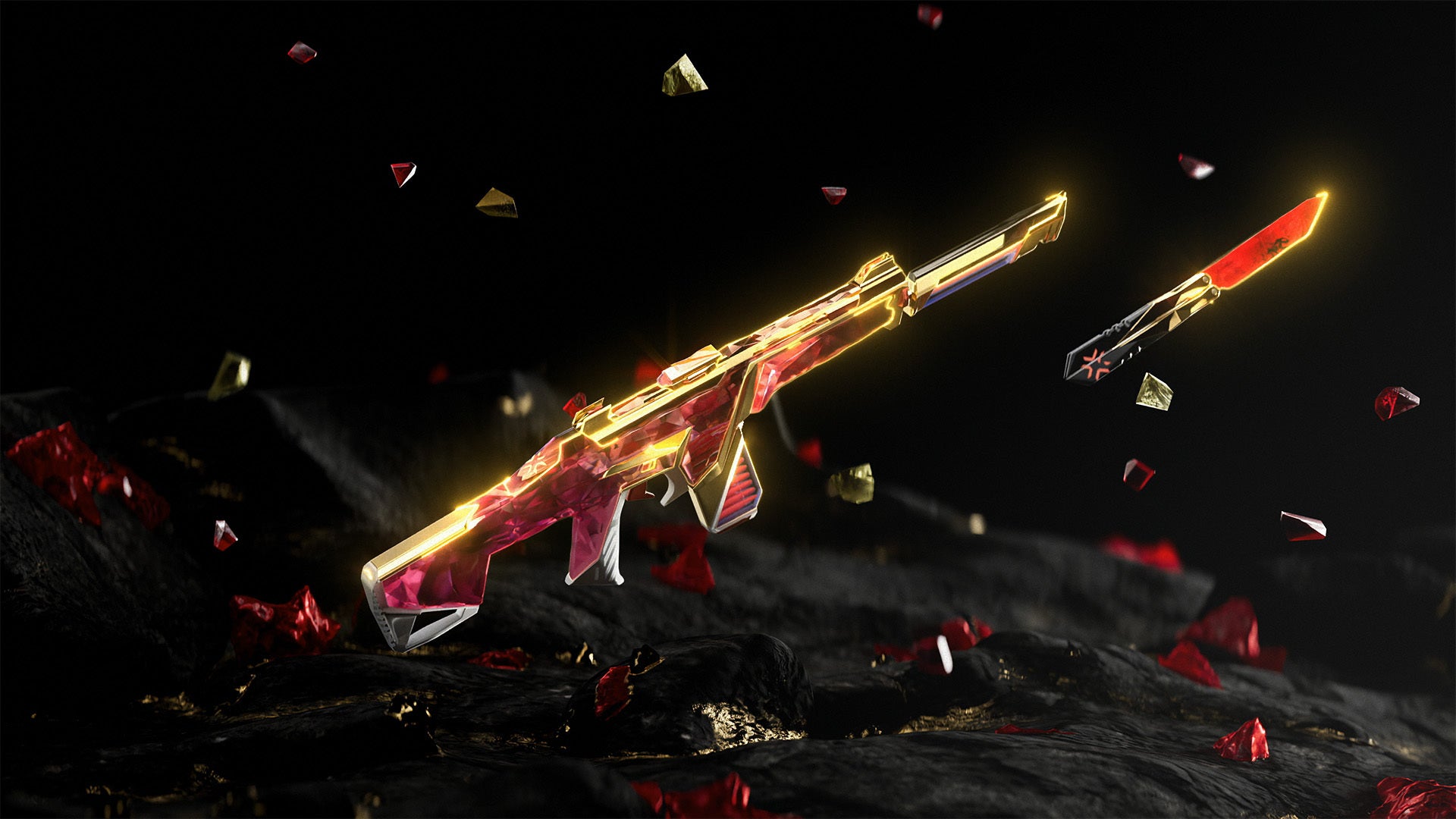 The bundle will also include a trophy card, buddy, and spray, with 50% of the net proceeds from sales going to teams participating in the tournament. Additionally, these particular items will never appear in the Night Market, as a heads up.
As for the free Champions event pass, players will be able to earn a couple of rewards for simply playing Valorant during the event. The pass consists of the following seven levels, from first to last:
Jett Diff Spray
Gamer Title
10 Radianite Points
Nice! Player Card
Potato Title
10 Radianite Points
Champions 2022 Dad Hat Buddy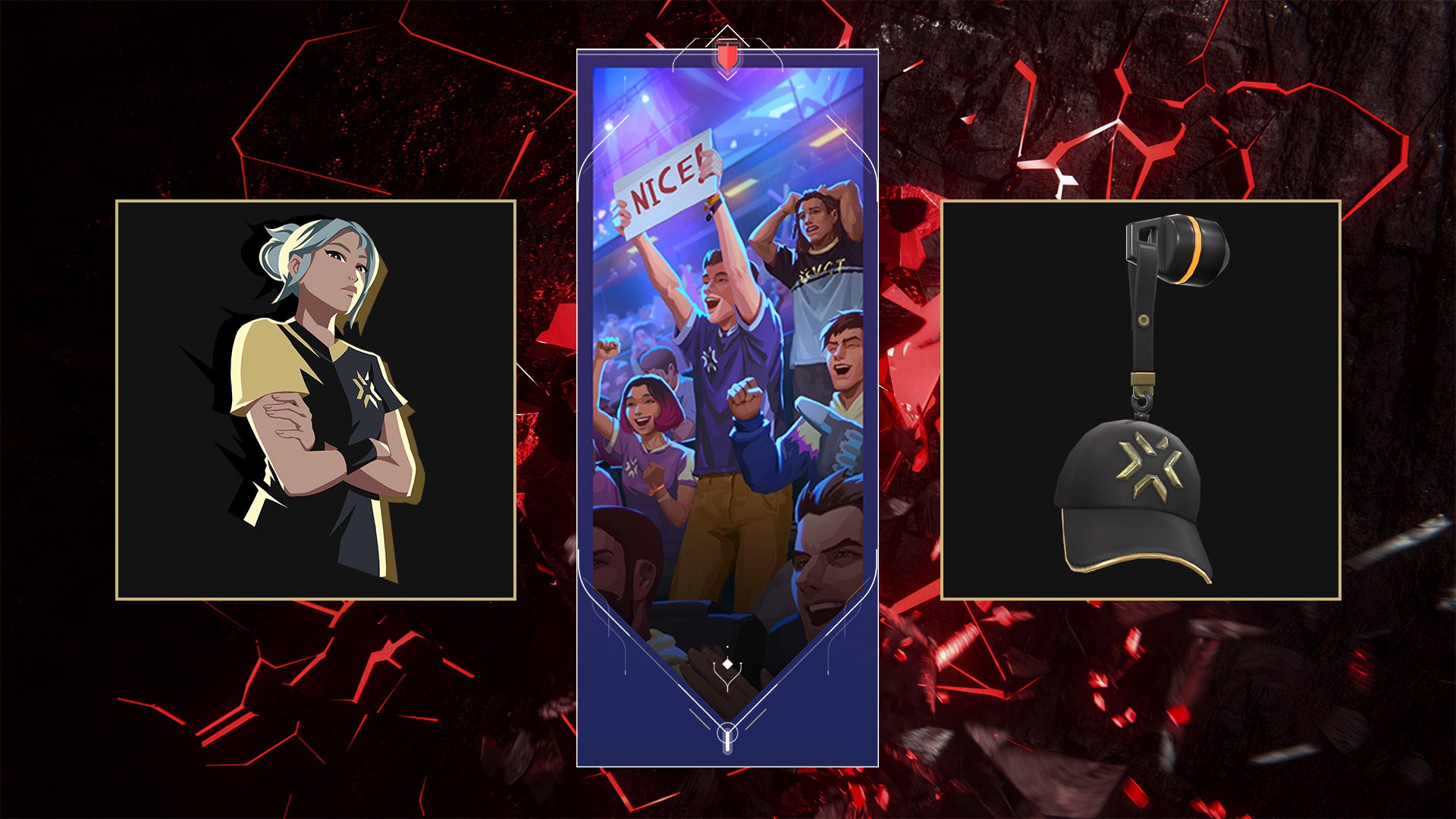 Finally, there's going to be Twitch and YouTube content drops available throughout the event. To participate, simply make sure your Valorant account is connected to your Twitch or YouTube account, and tune into the VCT streams. Here's what you can earn, plus how to earn it!
Fire Title – Watch any live game between August 31 and September 13
2022 VCT Champions Curse Spray – Watch any live game between September 16 and 17
2022 VCT Champions Hero Card – Watch the live VCT Finals on September 18
---
Will you be tuning into Valorant Champions Tour at all? Or simply making the most of the free event pass? Let us know!




Source link
https://colab.research.google.com/drive/1s-oBmAV228HHEoFBwmAEH90_pgwoFtfF
https://colab.research.google.com/drive/1o4C-gBz_4_VTNHut26Nra07bVnpDyi-j
https://colab.research.google.com/drive/1L0ZCZE6Z5fIWMSMIKhDi8gv8e2Deigj9
https://colab.research.google.com/drive/1t2za7d3PHDgpgBVJBNPY3zVYJMUogCPK
https://colab.research.google.com/drive/1DULanWG-20Ofk8vZNCJ0z5SpM5n_H0XR
https://colab.research.google.com/drive/1cOZeBHWxXQiBnWAmtxkIcWrCzmf0Mupx
https://colab.research.google.com/drive/1hU-JQMyw4fvXQ7bHTZd8VXiBDFhwRKdB
https://colab.research.google.com/drive/1lo55ae_S9GCJaK0AAD9CmCVtD_0ngGsJ
https://colab.research.google.com/drive/1GlIITKuI_cmuDMg16moE322EOYq2i_Yg
https://colab.research.google.com/drive/1AErYPF9PfclIDYhdCsKc-RggXy078EhH
https://colab.research.google.com/drive/1pbLm1zFkJ5Tuz99FvSeBPLYjm3Eu_wGm
https://colab.research.google.com/drive/1D7YZ_tmu5zFjPjhNAguFI7rwGQwhQrzs
https://colab.research.google.com/drive/1BQlbs5M7Uh_pWLXTtYRIKCYe80f7WFGm
https://colab.research.google.com/drive/17CD9BVmlwp3O7hRdHu00WwgG_uZ-GzXU
https://colab.research.google.com/drive/1mCddCqWQ3sx46IFPZjHGskaHGyaOpoEN
https://colab.research.google.com/drive/1nS7rpb__WXpOAo2_LJAOxSTzOxeFNuE_
https://colab.research.google.com/drive/1AEDH5hHlOBkrta4YRjqeiVq4QEyU3SIx
https://colab.research.google.com/drive/1sheEAlp3yHKW0x037F6H9HAuag5aF9na
https://colab.research.google.com/drive/1rkIYY9-Oyz2-wlnO2jm2hgrGAm9ZCJy1
https://colab.research.google.com/drive/1Js7wy5pLB_BLukA2A5wK_LpADaGIzzlM
https://colab.research.google.com/drive/19szvO6uyntyw2GMBfPmVPB6Em6X-1wK1
https://colab.research.google.com/drive/1VYQmRywMtFDw40vwsaibMJEzMfdFxMjX
https://colab.research.google.com/drive/1e3Lr5Mmi3WqREqztezX55sjjPoFt9q6L
https://colab.research.google.com/drive/1jso_Xqs5N0HFU26a5o2i47Z4xuii2SBz
https://colab.research.google.com/drive/1xR0LthnYzhvZ02FedT30S0GIpZm1yDLA
https://colab.research.google.com/drive/1JROIqv5aACi36RaS84-UvvZ6uACahDPy
https://colab.research.google.com/drive/1lEausT86PfeU0vLFx1uMNWghTaQoiTGA
https://colab.research.google.com/drive/1HZ84ogJ3iVUJrdKaM2G8ynqMqhoC1O9Z
https://colab.research.google.com/drive/1G9qmawfsagK5DcYw4Fez0MwvYiEbYaAB
https://colab.research.google.com/drive/1pKL4swDmKsSp30CwF0gv5UZVEeWoKYTL
https://colab.research.google.com/drive/1CB6S0l0AUYGgxry2_qU6uHV1lUKVPMe2
https://colab.research.google.com/drive/19DRcPdbGadfU_HsrNDwJ4_Aw1_BNJzJZ
https://colab.research.google.com/drive/1X3Rp6jVosq1y7vAoAm7Xsw8iWLjsFa9-
https://colab.research.google.com/drive/1UhGwthCuklPECDSnkHi4VJ2JYiYecQDy
https://colab.research.google.com/drive/1939Cfsi9XyHo88R_mXFJhGLGuciM6hvY
https://colab.research.google.com/drive/1mIF8mz_IZ4tzmX4bLIuzH4V6tFxKIYcG
https://colab.research.google.com/drive/1JftD3AI1L4KrD4J29KFBPBHxPyy0Yoeb
https://colab.research.google.com/drive/18VmxlxhdE7zwtHrfsZSB5M9uCcjR24J2
https://colab.research.google.com/drive/1VTauIwfuJy_LiVEPWaoV-L6sTY6m2zPb
https://colab.research.google.com/drive/1U3Ona7QYquWtU4dsNFDwRu7DLm2uSNnz
https://colab.research.google.com/drive/1WiQGZJaBdyT2SGzBgf8AIxq7ZIMax88X
https://colab.research.google.com/drive/1AXNyV3ke-paYS6B_rOTclfMuEMV-SuSp
https://colab.research.google.com/drive/1YDdPFLy75eUPm6uCpJPNY03F73gxuAEf
https://colab.research.google.com/drive/1MTqRHwGmAQD_XN-wQ92PACLMjjaSfX1q
https://colab.research.google.com/drive/1ZdM_baEu9OxherkOzrqzZh7ABAzhKE7s
https://colab.research.google.com/drive/1F08gjTLxMR-mVE1zRHwiDIIRL4zD7zu2
https://colab.research.google.com/drive/12A7uDOgkC12wPbRSUXK0t0XMHRkwurMM
https://colab.research.google.com/drive/1hwenBkc7MZKVYKUhyNYsE3fKBe6zfvun
https://colab.research.google.com/drive/1v8Fw8tW_vwrBX0uU99VzEMc1gfvzo-Ma
https://colab.research.google.com/drive/1MTqv6KtlvygU1jcxgGJ_nQqUolki0Rf1
https://colab.research.google.com/drive/1h0_JggqUaUTPuJcRfOjNAvowoisU6BTt
https://colab.research.google.com/drive/1jV5e8Enzu3fqAhEciX6tkqiCBw2VTX1g
https://colab.research.google.com/drive/1i9nzdKGoV8UsCFYbu5mbN2lX-lnXj1Og
https://colab.research.google.com/drive/1anNZWLPXROF0oThffQHmzqsCxYIBKrqb
https://colab.research.google.com/drive/19G-xoSB8f7iYlkRbn5ex0EYHQkLlr6rD
https://colab.research.google.com/drive/1HCV21lMICJmQ4HNpBpOl1rWO4bqU5xI1
https://colab.research.google.com/drive/18q-hajRob0p0eMohqoeOSMrbq72VfnCQ
https://colab.research.google.com/drive/1uAzIWkq22nFcLr9QwLtfvrT1inhi4Kl9
https://colab.research.google.com/drive/1_7Wjn9ecIrHuH4pX6DNC_5gwuG-YnTfo
https://colab.research.google.com/drive/1MVpUN26T3vSU32lAUAMYnbDjJEHtPQk5
https://colab.research.google.com/drive/1NRn9SEbc_PpL9KiVZ3YjtIu1NoFJ_gmM
https://colab.research.google.com/drive/1ewFJtzjmrJ_BBYoZvwtDzujuHpOhNFpu
https://colab.research.google.com/drive/1o6Xx6vFco5S5_qMNz4HN4mgFjMdP-EiM
https://colab.research.google.com/drive/1nCJ3LCnTev4NG_P8XwEsQi1U89WPw0Pp
https://colab.research.google.com/drive/1AyleVJnsThifTmEZpp2OSrC_wdDu2KyK
https://colab.research.google.com/drive/1UphXboABSkh67OckROEjzCeaYg4wC6MD
https://colab.research.google.com/drive/1PwmEi5sE_xsZm2phESRCs0Ofxxe9SgEW
https://colab.research.google.com/drive/1J3WvKsvEB1Zclwx66mT09cJ2LilNHxwN
https://colab.research.google.com/drive/1UNUhNdtA2A9vqoPW-H31-c8X5yt9RCtG
https://colab.research.google.com/drive/1WIkqk5YaRCYbA2DAFW9lVYR0uC24uck-
https://colab.research.google.com/drive/1Lc2SY2xUhycyEUfwfQ6pN6j99zP9-41R
https://colab.research.google.com/drive/1cL24ozQP_hb_f_a_eQK_neGrEptY9fMF
https://colab.research.google.com/drive/1PUdS8-1MaCwSr5aAaZMcsMxfzibmLVAl
https://colab.research.google.com/drive/1hhwExIgT2ShuIupdz06MrD_Znzxu3qmy
https://colab.research.google.com/drive/1jC9pWZtj-f94FPBlcsPVQdLyIFB0-mh2
https://colab.research.google.com/drive/1xsSQddBql8mQRGbRm38tBe0VYzfSfq3C
https://colab.research.google.com/drive/1RsBIga6NnP3aLiIrXGw-qxqtz4u-NNKX
https://colab.research.google.com/drive/1fP7D_mPZ02sJ6Ziyd5Q3vuaiqf0MWzC1
https://colab.research.google.com/drive/1zL1UK7aO7zU_Y3rvGyqlyzCZmMoR-Hol
https://colab.research.google.com/drive/10HZFTgA_6N_5h-n_r0j98lapwdrkt-Zy
https://colab.research.google.com/drive/1s23UV-wchcIlrDO_skq8oUsd6nNylOVl
https://colab.research.google.com/drive/16X6bALwy-U63M1iW9iE6yLMgQmQ92gBR
https://colab.research.google.com/drive/13cEHZzqce6-XBH0JoL2J-zBVtuELjHXq
https://colab.research.google.com/drive/1AenFVWxJUYwKMjZhYuGa22cj-5fTewdh
https://colab.research.google.com/drive/1FeXT81yoE-4nF0Dz5F2SoPjP1WEDpGgs
https://colab.research.google.com/drive/1R2a71zSbfTZEbiezlWHuU3RSI92V5xaD
https://colab.research.google.com/drive/1MWyFeL55JuSB2jp7Gzrrci_KoppAlHmV
https://colab.research.google.com/drive/1FkbAgBdZ_AksAOeVQEc8b0JaMo4jAbFV
https://colab.research.google.com/drive/1fVvAm9sWYIlaNPKgdPHWVwtFjOzQJLrW
https://colab.research.google.com/drive/1xCQaus2-0laFU4AUKBRdRaNtkugjV31x
https://colab.research.google.com/drive/1lTbCEoGFEkez5O5Qn7v69BCCHI9BiXZ8
https://colab.research.google.com/drive/12SnfFwTQniaDI_xz74-XdzYiqaS7TKtX
https://colab.research.google.com/drive/1xL5yfWMlXWk4bM9i0VsiFl14gUsUVvuO
https://colab.research.google.com/drive/1XzrNunmdNgB1-xapNTKHrwj52eQmDySa
https://colab.research.google.com/drive/1KDB-p9kfPfYSea0bVyTPDqs663NGrs5t
https://colab.research.google.com/drive/1Oex7-0sAkxirYf1NKMwkTZ8ZZcUWyZ-I
https://colab.research.google.com/drive/1CzFcC4dBqf2K6DLb33EmOdX1JUjp2SXD
https://colab.research.google.com/drive/1v_o_-DcfnzOB1Wlz-b_Ed9E_4me5ClBw
https://colab.research.google.com/drive/1rAMOlwByYOsac2FU55Df7z7Q8Q0VD-2J
https://colab.research.google.com/drive/1hDRnXbzyjnQRJosH-sMN2Wn1gQzmkcxY