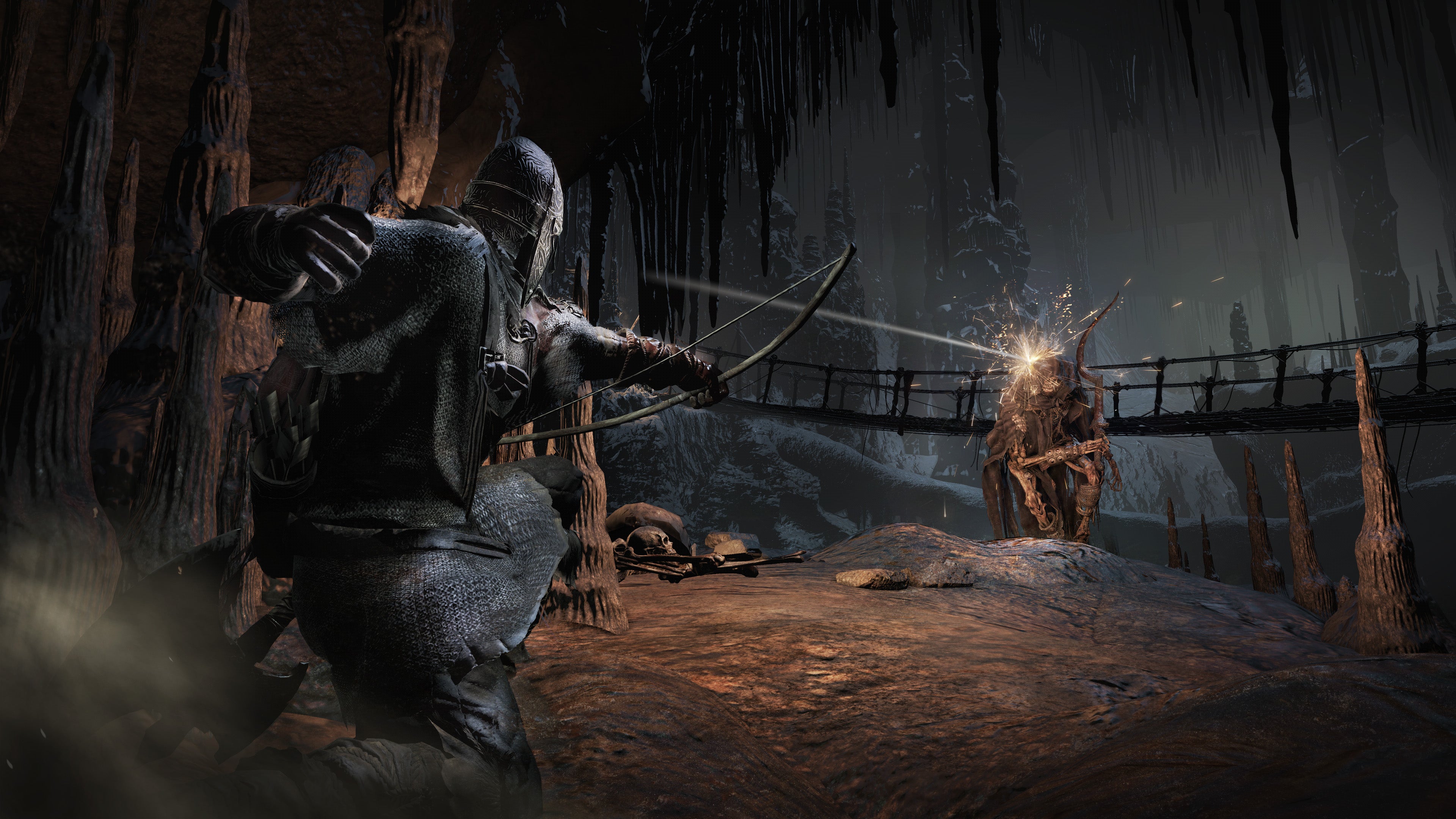 For FromSoftware fans and avid Dark Souls players, it's been a long time spent in the dark without online features. Ever since an announcement to Twitter on 9 February, 2022, explaining that there had been some technical difficulties experienced with the Dark Souls games on PC, the online functionality for the series has been unavailable.
This Dark Souls 3 cinematic trailer might gear you up to revisit the title.
The same announcement said that online services would not resume on PC until after the launch of Elden Ring. Elden Ring released just over two weeks later on February 25, and until now, online services for the Dark Souls series on PC has still not been restored. Simply put, it's been a significant amount of waiting for fans of the series.
This was in fact due to a Dark Souls exploit that could allow hackers to use remote code execution (RCE) maliciously and even take over another players PC. In a statement to VGC, one player who had discovered the exploit actually shared the details of it to Github and with the developer, but they also stated that little to nothing was done regarding this information until they publicly demonstrated the exploit on Twitch. As a result, the Dark Souls servers then went offline while the developer found a fix for the issues.
Fans now can rejoice a little. Taking to Twitter once more, FromSoftware has announced that online features have now been reactivated on PC for Dark Souls 3.
Online features for the PC version of Dark Souls III have been reactivated.

We are working to restore these features for all other #DarkSouls titles and will inform you when they are back in service.

Thank you once more for your patience and support. pic.twitter.com/XHiCZDEANC

— Dark Souls (@DarkSoulsGame) August 25, 2022

To see this content please enable targeting cookies.


As it stands, it appears that the developer is also currently trying to restore online services for the other Dark Souls titles too. Typically, there's no clear answer as to how much longer players could be waiting for these, but it's nice to know that online features will be returning to the other games in the series, sooner or later.
As ever, helping out other players or fooling around in PvP is often what makes these games live on indefinitely. Even the likes of blood stains, phantoms, and messages are a much-loved feature of online play that doesn't necessarily mean meeting up with other players. So, it's certainly pleasant to see the features finally make a return.
Are you glad to see online services restored in Dark Souls 3, or are you still trying to finish off Elden Ring? Let us know!




Source link
https://colab.research.google.com/drive/1VmXhJ9xE0fArWFLbsFzy5VwL5jCQmyF3
https://colab.research.google.com/drive/1BsuUWM6fNYPr9_u09z6u5FkKq9ukteD3
https://colab.research.google.com/drive/1M7-QaAYbfOLN3KS2GQzs4xhXjlVbE7fu
https://colab.research.google.com/drive/1tqFN7y7SuFzZ2OaadkqaSEH1LE3VBaGT
https://colab.research.google.com/drive/11C25xP5JtG-t0MpFVxXrWmkhb3p7aVR3
https://colab.research.google.com/drive/1WOQ85xw7uiSlBI33sEeplbLTfjw0JQBO
https://colab.research.google.com/drive/1lirqoHNpZ56cE5uhuLYqh9ZDvr2L3nBJ
https://colab.research.google.com/drive/1rjw7nZyAVFjLKaXihjAkTg_9S9Y8X8y0
https://colab.research.google.com/drive/10QVhTx-3yW0nSprKkcpuCRUX7KDYD1UF
https://colab.research.google.com/drive/1CgpoC7hchxgQUOm5d8iYr-SXjjZIMUa9
https://colab.research.google.com/drive/1vpE0vU854cE9ccfknsk3swFYA4EUNJlf
https://colab.research.google.com/drive/18emNYpgW7QdhJdEiEvBPhnRQKD-xqrAH
https://colab.research.google.com/drive/16hV5_bGzbK0kOh_6e2pzuiHXuYwvemIg
https://colab.research.google.com/drive/1C0dooHe6-dvfdNBGcrKbVbbYum4r6Lft
https://colab.research.google.com/drive/1NvSEoWCafZvs13LWQlYB5tuCVKtA9uaw
https://colab.research.google.com/drive/1b79XsXWCFqp9dR14eJvukrt0FlGSl29K
https://colab.research.google.com/drive/1E6_EJUP3wWhVU3vD32PeJisApVsg1DvH
https://colab.research.google.com/drive/1eT_KjGVLB5runqEQaGPRZ99O-aYgWQlT
https://colab.research.google.com/drive/1n-3kC7G8i_SB6ovEFwAE9Enewxym09pz
https://colab.research.google.com/drive/1eC-rTg1LtPgomBbUMa0lcL-j5cQy3jsk
https://colab.research.google.com/drive/1sIpqlnVTfQWm8ekTwgay7HhS_RW8DqXd
https://colab.research.google.com/drive/1LqKlVzuG8wZFLouYYlyvAPufLpttjqt8
https://colab.research.google.com/drive/1v_sZCPfjg18F0DAquhIMnB1sW5h8lKKK
https://colab.research.google.com/drive/1MxGR29tY5X4IAWLhZ7XALYuNSx2r0mrA
https://colab.research.google.com/drive/1h4clmi2SpnRj6prAy6f0Z2zPDy_jhudr
https://colab.research.google.com/drive/1B3L2dm7IJWTl7IOfzIEBmoEVHZx2bS2v
https://colab.research.google.com/drive/1edI964Or8xs2H6mYTcQ74b-NPmBeTtL1
https://colab.research.google.com/drive/1Fi7yO5HsRuG1QJ3Rb7P3P5wCKZmnv9OD
https://colab.research.google.com/drive/14e8fvDYuw5Wcbh9CUIg1VUFyC1HxcDKQ
https://colab.research.google.com/drive/1DVw4VAkV98TvSOIKVjVip92adhW3KU5_
https://colab.research.google.com/drive/1lK4AcGvhxQPhHUkLUhLpqkeYB8J1vlEQ
https://colab.research.google.com/drive/1Tsggy8d9aX3DJHRDyg83joprw_QaAt1H
https://colab.research.google.com/drive/1qIwzKci2_do1MgCOV2IaZxNVyKutiVtL
https://colab.research.google.com/drive/10UFuCbqpBqLIk4dNZYPccuwZ3LYSY_VZ
https://colab.research.google.com/drive/1NGpsP4H8PuVVP8HUV3zslAmFiEPDUb7e
https://colab.research.google.com/drive/1LIgODrpmV2Zqiz9aWBwLJ3IRtOvyfLgC
https://colab.research.google.com/drive/15IUIDNC62wEPZ9W-0CMRTJbXvYDQHNoE
https://colab.research.google.com/drive/1i0NrB5yg3X35kjVtYfmF1emnjlErBeiH
https://colab.research.google.com/drive/10DCRr3yKrOFEbA63WIy2uTEj2LMNbYVj
https://colab.research.google.com/drive/1RvczJGiBE3oOT3_cwJtidhbyXa0L6-bU
https://colab.research.google.com/drive/1VcKhEdhIRO–crpe0vznL7m4KOVjRnuz
https://colab.research.google.com/drive/1pAmccg9JmWoExQe7sFHbh75sns1bKyC3
https://colab.research.google.com/drive/1PdN0qwWxoiVfg1vVJ3bpf3YBituJERxV
https://colab.research.google.com/drive/1glvS7KYDKXIfvT74uIxME4vXi5rsd_k1
https://colab.research.google.com/drive/1WD8gXNJ006gWFc0Wdp8Z5_GuT15vWkja
https://colab.research.google.com/drive/1AN_YMPCV_tjdZbrJp7UOCJWeN9CMZZav
https://colab.research.google.com/drive/1vMO8uHM1BToZ0DZFmj3mwKoinbBQTs8A
https://colab.research.google.com/drive/1bY-MRLt4dVwBDaH3IWZ6ihzVIYqvsv3-
https://colab.research.google.com/drive/194VhwO64KY4tWubJPuWS-h7RPbv_fGBW
https://colab.research.google.com/drive/1Xu79qMfSZDE7hi99cqNUW7V6Tcy29rHX
https://colab.research.google.com/drive/14FmZ554qJ6xw6fokqPPI-l0dPAx5JOv3
https://colab.research.google.com/drive/1moZEBlUe7psT4nlm2lady7ZZCoVYHhjb
https://colab.research.google.com/drive/1yFSkpBN6gr_HS4tJwGHin5htNnWsqtJ9
https://colab.research.google.com/drive/1vlRVkfKgROWwCDiGNC8R2AcsccpDWkiJ
https://colab.research.google.com/drive/17uqLRhPU0gKZ5w6z744qi-BgKmgP7ilC
https://colab.research.google.com/drive/1teJ4ao0L0084GmCHLfVw2wMwr9GD3p8b
https://colab.research.google.com/drive/10MuO_I0dgS_tcoQdzQJouVfJ_QnPNwuY
https://colab.research.google.com/drive/17eRd2fRhcds51bxi-tY5ukl7c9YAU3Kl
https://colab.research.google.com/drive/1WUy_9gKsLJ04wi6lWoTRwxzNEt8SRAi2
https://colab.research.google.com/drive/1laz4ISxLOUPXvD0tGO4l0fKCm9T2IBdt
https://colab.research.google.com/drive/13bTxC5OVJTXl9lPMnlxEoi8hUD5ZkAVE
https://colab.research.google.com/drive/1UO_aTkaR0GuxnXvDe59zO3aa_j3r1cso
https://colab.research.google.com/drive/165FABBmEPflDskHhBGyC1Ad5adh1SWjk
https://colab.research.google.com/drive/1_2UU-kJa06RqoI5NUTG7vSFcbAX4ANyD
https://colab.research.google.com/drive/1UNnz1J95l7IeilxayWjRI-9UkAgzz_Aa
https://colab.research.google.com/drive/1ROg6_esQHWlS2ukuX9sZzoc4_7Q33TuE
https://colab.research.google.com/drive/129Qb4xe7dsPGemFh0eb8SZfnzMDmrp2C
https://colab.research.google.com/drive/1nTPxbvPEJNtT_yKRaSLVPVoE1P3YzWcw
https://colab.research.google.com/drive/1lO-_uJM1EqoJTEzUwtQD4w4W5g8KpeE2
https://colab.research.google.com/drive/1YtciCQWN8uT06ASVWBoXKe4FZGItl1z3
https://colab.research.google.com/drive/1hDZFo0P9QjwS6L_dmTBkBtS07xpEV9J7
https://colab.research.google.com/drive/10pH8KMZPTT-fT2-LMBFGwWyascnv59Gv
https://colab.research.google.com/drive/12nu32zdZ42Pzp4mVKDDCmYeaPq4U5UFJ
https://colab.research.google.com/drive/1WusrdxkKyY6YPmliowV0RZu4ChetX794
https://colab.research.google.com/drive/1QYEjmcgko3r7WMy10bbPUvCJfFkl8JKG
https://colab.research.google.com/drive/1RKhA5MPRSHkG0OMUH1jjarZJGyry9YQa
https://colab.research.google.com/drive/1FjEBCpRCr_vIZAJKKZC4xBlQY06RmlQl
https://colab.research.google.com/drive/195bgb2OXHzx0AF3Hx8NuRux-5671sjKy
https://colab.research.google.com/drive/1jC4kP0OwQCX8B2BqbkC9xGNeGeF0FnsJ
https://colab.research.google.com/drive/1QNSbHK2-G_qRt4fus_Ap9abd1zytYQNI
https://colab.research.google.com/drive/1fItDn01pCixhkRw0mcGBtjyYDHFrCKEv
https://colab.research.google.com/drive/1Z65jUD47SKMS7OMgXsGHJOfrcPMLTH0X
https://colab.research.google.com/drive/1YkWbRrjak5wy95r-3vpEjUTovLoFqKSX
https://colab.research.google.com/drive/1xiIC7sDQijCe86A2WwUYe3JiaDN-uo5I
https://colab.research.google.com/drive/1TVt_8Cv_dfS4ftJZj44WPjEfMn5gsaix
https://colab.research.google.com/drive/1Rqbc1IxGI31jwRTU9AHVwM7l3krnv9tN
https://colab.research.google.com/drive/1LrQKprS6mjYHS_KWHQZ5oVgG-QbiJKkc
https://colab.research.google.com/drive/1SOjy8ViXWSNowmWQf4cOd1QYkvookK47
https://colab.research.google.com/drive/1BlaY3MUZHK-T87z792B9GJ0lTPpUELuw
https://colab.research.google.com/drive/1IXx26nEv787Hdmj6el-w-K5ueYWH6JZ5
https://colab.research.google.com/drive/1i294xYHSjTgXOua_IDaevxzMkIeNp0rp
https://colab.research.google.com/drive/1BlBcFMwaiqnF_cEEcWcv0bcEEZ75d5Zz
https://colab.research.google.com/drive/1ixaYQNi73_pK0see2GS6LQu26U4c_44B
https://colab.research.google.com/drive/1NYKtKHSW0XLe_zeqYdqDkzRlvjjWlL69
https://colab.research.google.com/drive/1m2w3bda-NyrBkvEGOCtVeUJ3PR3FeXlz
https://colab.research.google.com/drive/19xz5N7V4LAEW8pl6zOs0DUCXV6kWaTwK
https://colab.research.google.com/drive/1pObaiNxRbjbySeGboJfdHx04Qt__wMUD
https://colab.research.google.com/drive/1LkjwpxfaOG2b1xABSUdVVmuMj2SCIdSi
https://colab.research.google.com/drive/13n7zFFQAUl4gY7w6riZkTGPcGbiL-zP5
https://colab.research.google.com/drive/1Jh9q6zW0iyGXZAk5jHi2ekGqRnO5C0qY
https://colab.research.google.com/drive/1f92h_TSj-K6rRNJ0PJ-HTwv8Ui0iLDZo
https://colab.research.google.com/drive/12c6VFN69qeZAFOLhIb-8FxI7Hgc-vkEP
https://colab.research.google.com/drive/1mJQPrVoeVt84bUllaiwb2Nce232G95dM
https://colab.research.google.com/drive/1kgePf1tTsqADH9eUA6ib_BMOPWGtD315
https://colab.research.google.com/drive/1ICC-UG9Dk6AoLVEI7oN_jtUO2p0al_Mq
https://colab.research.google.com/drive/1fSr0URW8ZL0hHfMghl4xSjgihBKoLVFK
https://colab.research.google.com/drive/1eXWEqbbdPKArotN5CJJnvDC1GA96ML3x
https://colab.research.google.com/drive/1zEQwPI6ORCKoM5a3QESwmdivKWIfYGkg
https://colab.research.google.com/drive/1ipMKp89hUSeR1cOPCjybGC6uxjBUZJN5
https://colab.research.google.com/drive/1qmkrRs1Z1NI5vMxPuNPhVmi42s_44AHf
https://colab.research.google.com/drive/1gU66GUVqyY_JEtFWl25ljCOEuFwtclTb