Immortality review – A haunting love-letter to the silver screen that will keep you awake at night
I find that there's quite the divide between video games and cinema, and that isn't necessarily a problem for either industry, but Sam Barlow's latest game – Immortality – shows just how powerful intertwining the two can be, when done effectively.
Catch the trailer for Immortality right here.
Jean-Luc Godard, a renowned French-Swiss film director and critic, once said "a story should have a beginning, middle, and an end… but not necessarily in that order." Immortality is perhaps one of the most ideal examples of Godard's words in practice. As you try to unravel the mystery of Marissa Marcel (Manon Gage), you find yourself using a Moviola, threading together random clips from the three movies that she starred in.
Marcel's first film, Ambrosio, borrows its plot from the Gothic novel, The Monk. It's equal parts sexy and unnerving, and the temptress character that Marcel plays seems to flow into her next film, too. Minsky followed a year later with a new director, John Durick, and saw Marcel play an artist's muse in a murder-mystery. Finally, 20 years later, Marcel worked on Two of Everything – once again with John Durick, and after a period of inactivity from the actress. In this one, the tone is even darker than before; Marcel plays a successful pop-star with a body double, but everything goes awry.
Some of these films don't sound half-bad on paper, although, not a single one of them ever released. Your role is to filter through footage that spans Marcel's career – and this doesn't just consist of film clips, either. You must piece together scenes from her first ever stint as an actor in a soap commercial, live interviews, behind-the-scenes footage, and more. Even the few seconds before the film slate snaps, or after the director says 'Cut!', a secret can be unravelled. And this is just the beginning of the magic of Marissa Marcel's illusive tale.
Immortality dazzles you from the very beginning, and admittedly, trying to write a review without spoiling it has proven to be difficult. As you sit there, match-cutting clips together, playing the detective in what I imagined being a dimly-lit room, it's hard not to feel as though you're on the edge of an important discovery. At all times. And technically, you are… When that discovery happens, you soon realise that not a single clip could be as it seems, and there's certainly something more malevolent – immortal, perhaps – trying to reach out to you through the assorted media. These moments can be fleeting, but when you encounter them, your breath is taken away.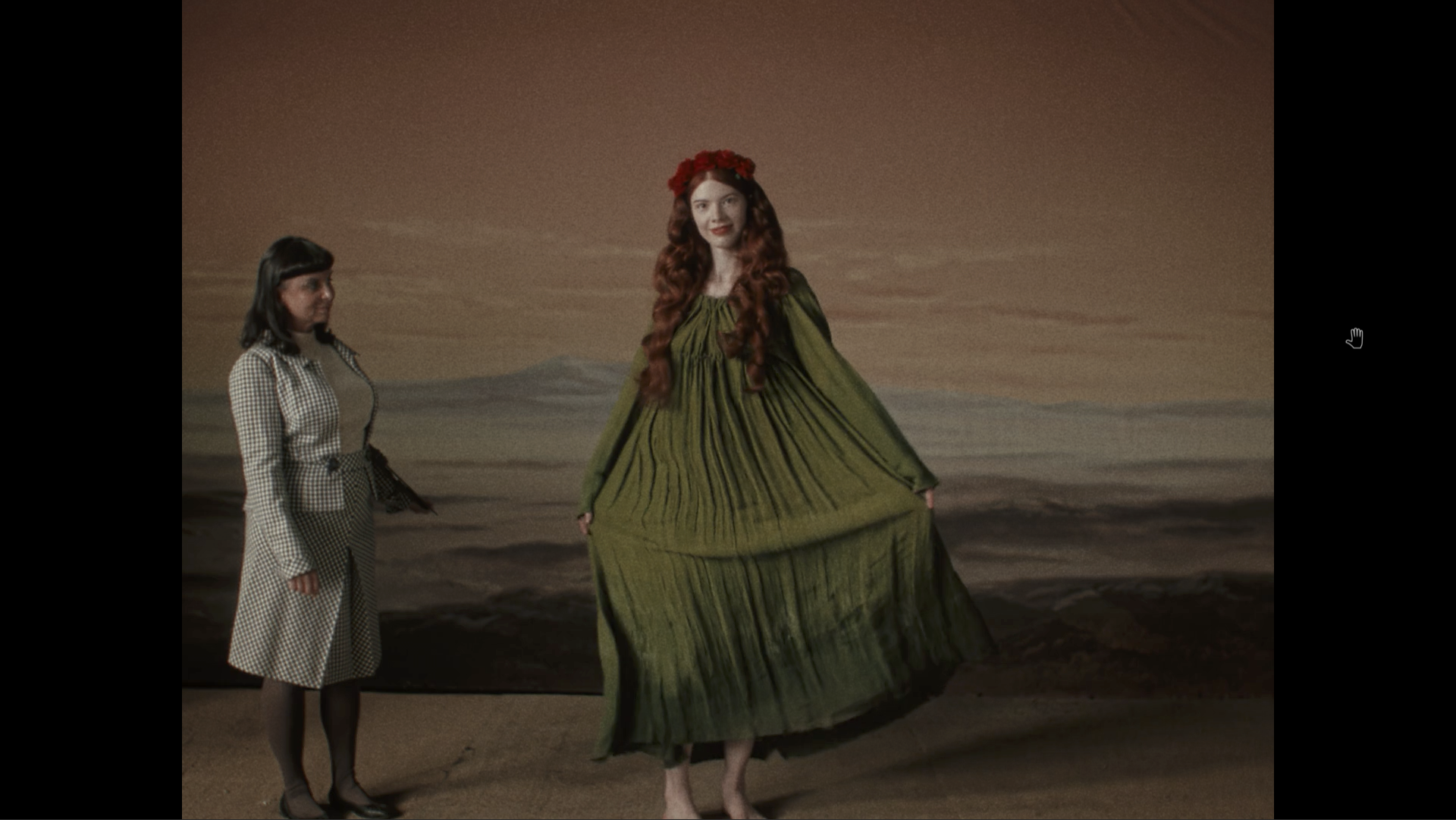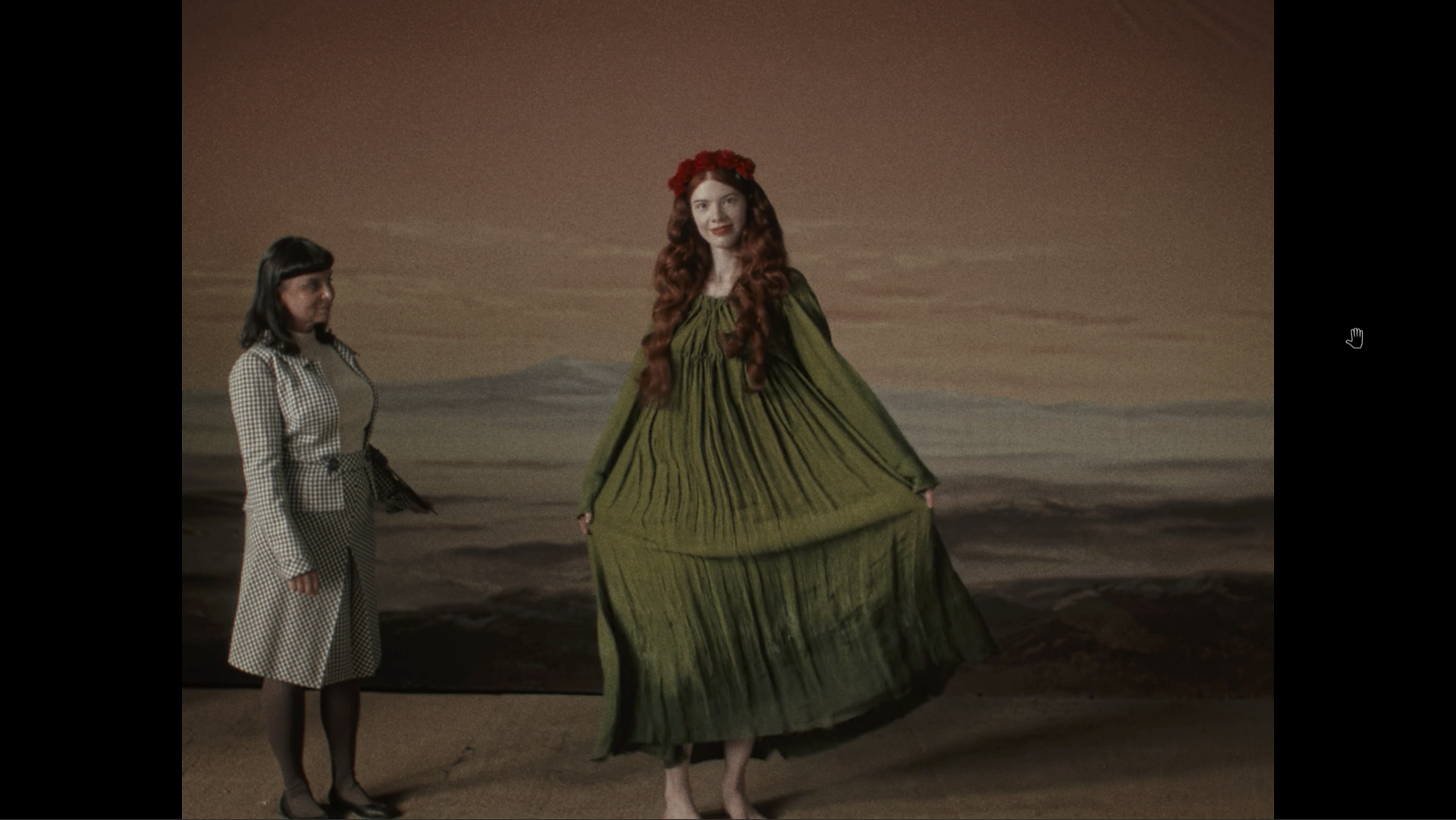 I approached Immortality with high expectations: that's what we've all come to expect from Sam Barlow and the writers on the team (Allan Scott, Amelia Gray, and Barry Gifford). Their expansive knowledge of television and cinema shines throughout the game. Whether its subtle imagery, costumes, or even a fleeting piece of dialogue, the story of Immortality will haunt you.
But what has been keeping me up at night is just how detailed it is; while I was left confused at the games' conclusion, there's one thing for certain with Immortality, and that's that the developer knew what it was doing. There was simply no way that I could be frustrated by not having all the answers, because that's exactly what this game intended to do. It wraps you around its finger and invites you in, before trapping you inside the very mystery you were set to solve; it's not often a game evokes such a feeling in me, but Immortality is the type of game that you won't forget about easily.
Immortality makes you believe that you're in control, before robbing you of autonomy once you realise something is afoot. It's not something we're massively used to in video games – feeling powerless and out of control – and that's what makes Immortality so strong as an experience. It flips our traditional experience of games on its head, and it intentionally has you plummet into the mind of Marissa Marcel. It wields your agency, and does it with aplomb. All the confusion and powerlessness she is experiencing throughout her career… you feel it too. By the end, it almost feels as though you are Marissa, and the 'real' Marissa – whoever that may be – is trying to teach you something.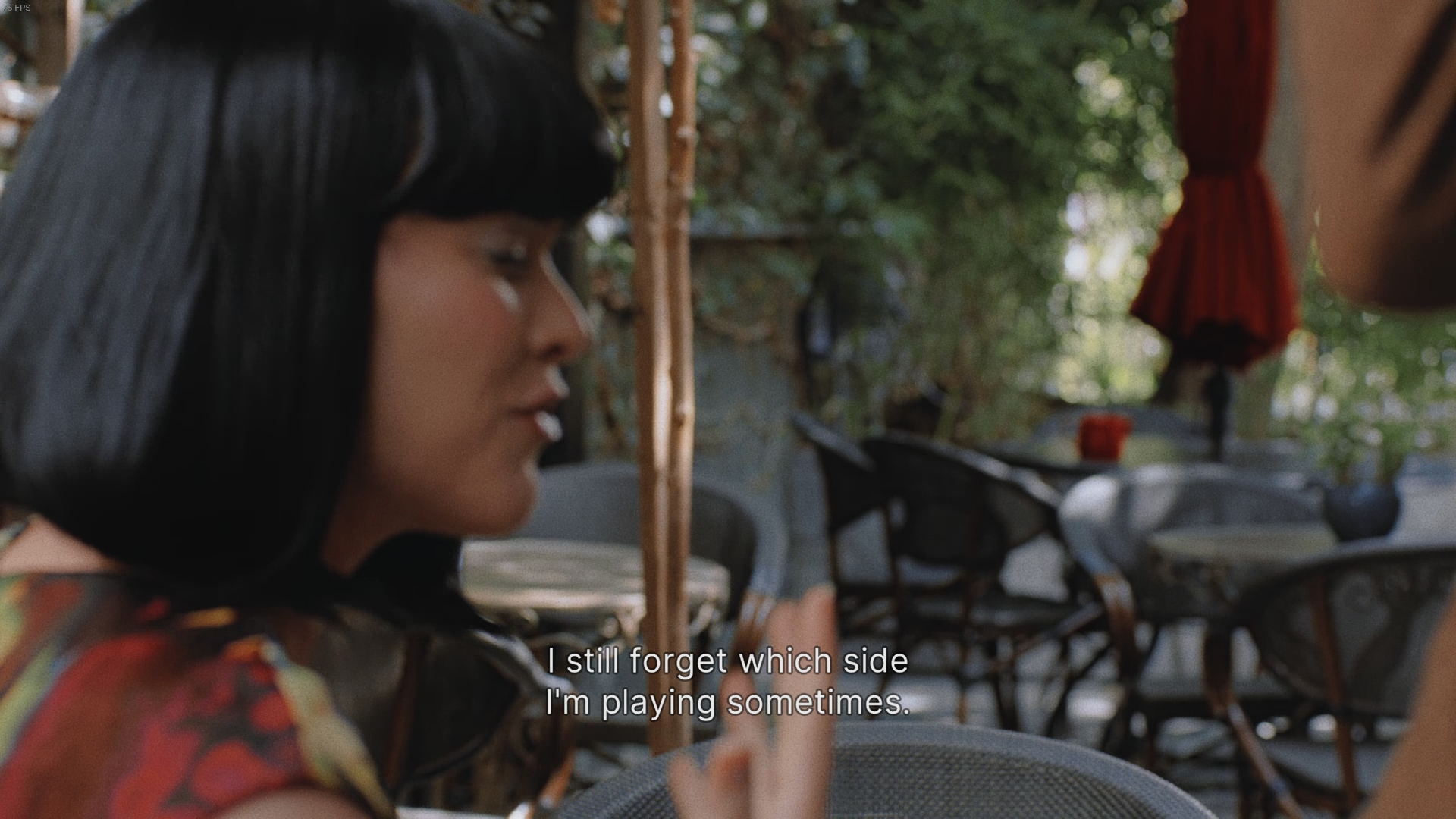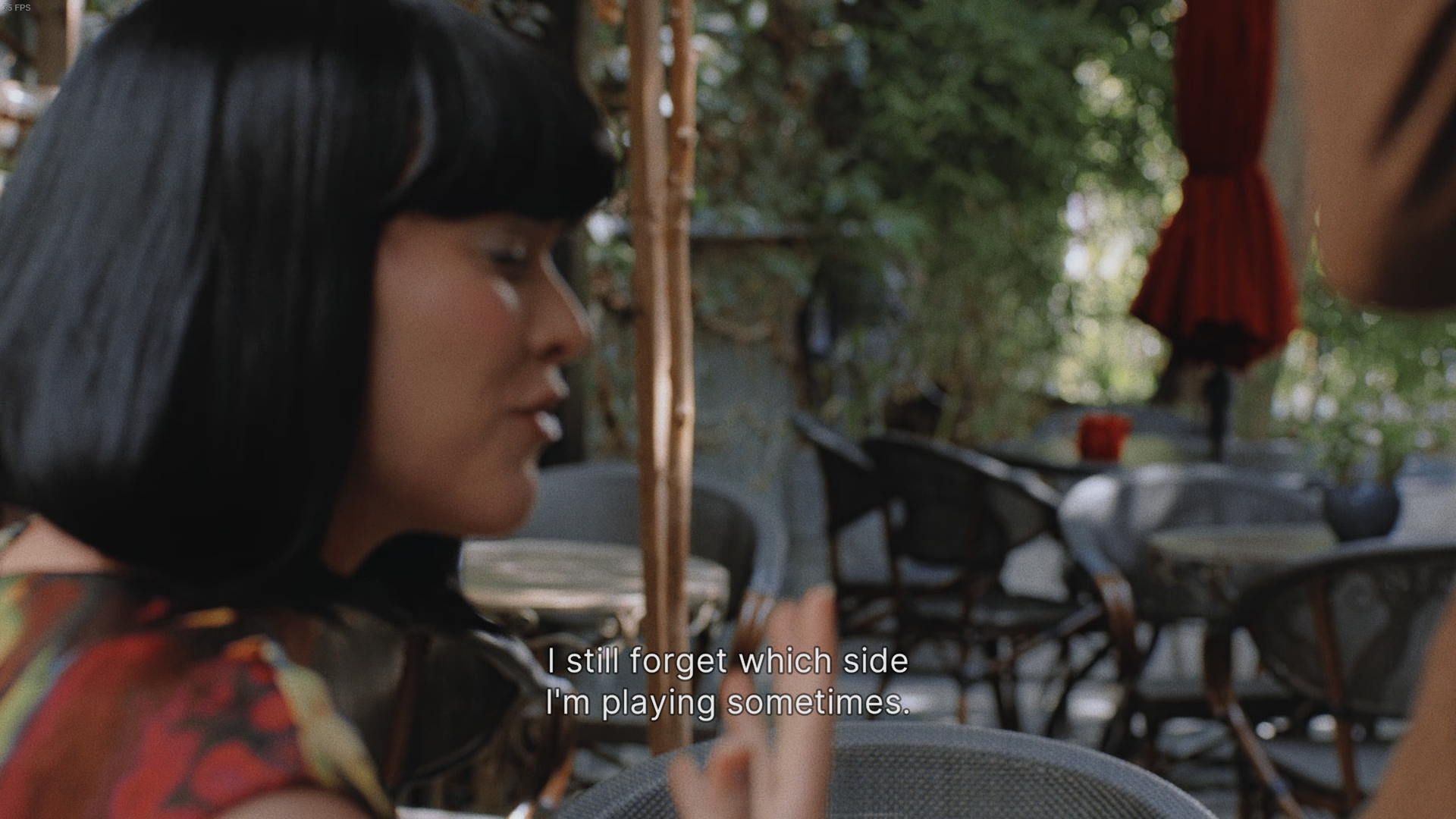 When you come to the game's ending, I think the first thing to remind yourself of, when you're no doubt confused, is its title: Immortality. That, as well as the concept of identity, are what this game is about. There's a lot that is left unanswered, and I can accept that there may be some threads of Marissa's story that'll remain unknown. What I do know is that the realm of cinema is quite clearly harsh, and long after you're 'gone' so to speak, you're never truly absent. Cinema immortalises its subjects, as do most forms of art, and this ultimately ends up being a lot more of a horror-tragedy than you may first think. The only reason Immortality isn't scoring a 5/5 in this review is solely because that as time goes on, encountering the same clips time and time again makes you grow weary; this almost feels intentional, but it did snap me out of the magical entrancement I was in.
With Jean-Luc Godard's quote in mind again, the nonlinear narrative of Immortality means that the game's ending doesn't have the same level of closure that we're used to – or that we'd expect. There isn't a happy ending, nor is there a sad ending. You're simply left wondering. It's an incredibly strange feeling, but the lack of closure here plays a very important part in why Immortality is so haunting.
I'm not sure I'll ever stop wondering about the snakes, the apples, and every other prop laced with subtext. I think that's what Immortality set out to do; transform how many of us think about, and approach, all forms of media – as well as the people who play a part in shaping it, and shaping our lives in the process.




Source link
https://colab.research.google.com/drive/1kJdogFQgzazmVARQX_iQInNLO-OsKon_
https://colab.research.google.com/drive/1J7ayFKuYNitE6w32UklAUmOkVXSR56Ln
https://colab.research.google.com/drive/1H7VHyEC93tjmzf7BPthorrcC_ds14g_y
https://colab.research.google.com/drive/1q_RM3AoTV8h6IEz8KAUJHEXKjbAHsaZz
https://colab.research.google.com/drive/1kMIFrLb_w2HGHV9ZcR9MwTmgy5vB1pe0
https://colab.research.google.com/drive/1YflFnkQatxC2Q97KHMdzhbr9t8Gb0IUm
https://colab.research.google.com/drive/1abl_F6uYL5UYLlLuXWGDVY44FxXXTSd5
https://colab.research.google.com/drive/11o48zZg9VJOjgM-0vGroiYVbCX7z-X_f
https://colab.research.google.com/drive/1WK3b5nOt8pUYyJVEEDAZ3rDqK4r6UAWd
https://colab.research.google.com/drive/1FM5ezvjvj17du7-e0CIrWbrcHK6o0UlE
https://colab.research.google.com/drive/13YNNwo1jUTbHdOUhLbBIaVfhbVtexOoa
https://colab.research.google.com/drive/1vH0XZ7N1uE7h422ezzSeA5dimdOxtady
https://colab.research.google.com/drive/1KnK7Ce_0va8oSHGP9V_LcpQ7E0G9dMDe
https://colab.research.google.com/drive/1fcCVabvPE2COBhU2JC1iLeuZVRSt_pT5
https://colab.research.google.com/drive/1IQzF37khpvFS_pnuRuvvDqwT6RrCG_13
https://colab.research.google.com/drive/173vBsnRF5fgmf9EJYfBkKbcbSkTaJIj2
https://colab.research.google.com/drive/1_hCLlw8gHcenMTttl9FeUn-_9PdBdX76
https://colab.research.google.com/drive/17-Vc2yKmqyr7alEFF7EIgeRp7Yu0RHVH
https://colab.research.google.com/drive/1v9vDKIoYJ1y29YmjoOICU7u62X75mqCD
https://colab.research.google.com/drive/1gu7JgB8cW2mxrsTzmNn6PmJi-0lmdFDW
https://colab.research.google.com/drive/1H_HXNycZgb2cxsxyW2cKe9iY3uK6yvTQ
https://colab.research.google.com/drive/1GGODSmbGfKhOPH13yeezBaQzCrVIuC5F
https://colab.research.google.com/drive/1VxVhd3GtDb0s96ctBjcySSXTXq-SUS7f
https://colab.research.google.com/drive/1FYk9Y7MYT5wyN_sWWUfFXYztSG3OieZ9
https://colab.research.google.com/drive/16MB7DFSM465opKF2FAPPJFHbMdOB4gUa
https://colab.research.google.com/drive/1OBmD5LlHSLwGiCosZzPc4pvm0cy-HvPQ
https://colab.research.google.com/drive/1ypLog76AQZNjLqHts7bWaQdYH_VYSLcR
https://colab.research.google.com/drive/1F7Yg9fJEvTONkgTKx0xO-tEeWRFeaWUK
https://colab.research.google.com/drive/1OpI5Co7i0fB2F8Nf1Z9LjFLK_E1_9aGD
https://colab.research.google.com/drive/1kPEIeqmCMS4uYIsjJ-uYxVca1thNuhRp
https://colab.research.google.com/drive/12KNMhxpXIE45vGBn6Q6O-bWvV8hIvuvQ
https://colab.research.google.com/drive/1xjyD8pj2-RfRhGiT3v0-9lBmZt-ClkVv
https://colab.research.google.com/drive/18gKJLNBjLWlLCHZ5zKJ7fx_mZ7QPjXeB
https://colab.research.google.com/drive/1KVD5mRWuf7brcoi4CRxXC_Drc4JvM1TS
https://colab.research.google.com/drive/1hVb1n2EFBfzkt63uUpOBUaPbSHTu3y3E
https://colab.research.google.com/drive/1i5FOWuiCtt359-dlPeMrJlGsA4li3fc1
https://colab.research.google.com/drive/1dApZdVdxpPlzdOC_xzrPBhmHeno85i0B
https://colab.research.google.com/drive/1v5Ym3R6Sru7eXQixiIsgI-wFw9fJlID5
https://colab.research.google.com/drive/1w5av1UFaxP6KvXIt28RXQXJ2Vbf6v43g
https://colab.research.google.com/drive/1EBWesORj-EGklrXt5uQgqhrV5oqQI9JJ
https://colab.research.google.com/drive/1SP0tjdlYHgq3jr0koTi7t3a3wTzup1WE
https://colab.research.google.com/drive/1JgeF1vPz_YUfPDlx_vk75Cyz7-JtYB71
https://colab.research.google.com/drive/1azgGzDq0d54WChfeHWqlZZsS296J3XHY
https://colab.research.google.com/drive/1nFIUYbT8BzJMjkGfiTWlCX2s0GfzfXdu
https://colab.research.google.com/drive/10XRwEvfXzeNgQX0sbLBhtKcdyQbCNnOO
https://colab.research.google.com/drive/1FNzknDWYqtkjRSfYbCBCPWyR_6xpiJwO
https://colab.research.google.com/drive/19Qp-wbNuJP2DSSnAXGtKQpg5p4AbCzym
https://colab.research.google.com/drive/1WCLJh6gXfMf1GfId9JLD4k3rf4gZdB2m
https://colab.research.google.com/drive/1JF2leA9DPSNAY4V70-ossA1t6-TR5Uyx
https://colab.research.google.com/drive/1A_KYmfAEoURntelcHkPeMSSjzOudk0C9
https://colab.research.google.com/drive/1MfC_bAl_80AANosW2LLbfAGB-F7NkYex
https://colab.research.google.com/drive/1G_DQkhKToGNqJPZem49tYJzl2vO0tyA0
https://colab.research.google.com/drive/1Ia1pC43c6xbRsBIEfdu5KJMkC7tmgqdz
https://colab.research.google.com/drive/1wblz20VL4faN-Q6CwGvaFBJlCYNLV-iX
https://colab.research.google.com/drive/1uPigF3iCs_RCkKRtMs-68OpqMZXzFXG_
https://colab.research.google.com/drive/1F2WTkAsNeKBszlQWEa8n9oaVMMWXaCCS
https://colab.research.google.com/drive/1JJ3j_gg2bvP7rWBaLfCN-G2-9mCVKt9R
https://colab.research.google.com/drive/1pAQYHi1eg2eddtbcZy81sQ_QuajVdAvm
https://colab.research.google.com/drive/1DBuVrhOb4pHyeYCFlu8wDD20ZqflvRXQ
https://colab.research.google.com/drive/1pk_CVWxiojcmpfn7fTEMWYgxQzaTghRP
https://colab.research.google.com/drive/1000QjQ2OylvjdzyAGAUKO03NZxrh3IG8
https://colab.research.google.com/drive/1ziI_Eco6DTi-vyMLEgdO8a6UzXoDX0A7
https://colab.research.google.com/drive/1jlhG63jWML01ICtGfWOjiantsbgTYdss
https://colab.research.google.com/drive/18rzDply9LwXmvZ26fzq4XDfsuEe3QelE
https://colab.research.google.com/drive/1eVXnegRqSZfxRQkGJEuc1PMoYiTn_q7G
https://colab.research.google.com/drive/1t1mYj7X8Ts-AeniIBZCnJcGFLO5hSbs2
https://colab.research.google.com/drive/1ObXaelb7sPz7Xm3vQGtJGYP15VAQC68C
https://colab.research.google.com/drive/1NqrmonpDH3XTbCfpM4m8dQQRDmoR7LxT
https://colab.research.google.com/drive/1xTgHNuBIKiYSJ4J8ppZGhK6giMggMR_m
https://colab.research.google.com/drive/1P9wFcQ3Sj57MtKxihILtEREKETM1hjco
https://colab.research.google.com/drive/1mQxVQujg8nOqy1lrA7P3foKD-YsRkahr
https://colab.research.google.com/drive/1n29YcMeg92p9aefx_WEqxzQ2FlsF7QBY
https://colab.research.google.com/drive/1U9353Aeloxf1kjIfbiXLe3hVKlaOD82n
https://colab.research.google.com/drive/18P4kR2aCI2mgvR9wGEY5zNwbPFkDVucW
https://colab.research.google.com/drive/12YHKJLrvqqRUPV5GG4b80Dd1ckE9gusG
https://colab.research.google.com/drive/1yDaHnP2uOkEf8hcWeyUJ79xN5TkiJFp5
https://colab.research.google.com/drive/1gLiVUUA97bAQmaDaiJXKzo9Z9cbX4mLv
https://colab.research.google.com/drive/1WOPeesNUH-1JtJy1Ngt4n4CcoXM_CWmp
https://colab.research.google.com/drive/1dum4H-X_l5Dh8TFsci9CvKO0DOhMLcle
https://colab.research.google.com/drive/1RJrPWYP1ePg9OFhrIcGARJxTBLH5qQzP
https://colab.research.google.com/drive/1GY5xR8f5YiELgNm-inYfZ5AyYucPNFEF
https://colab.research.google.com/drive/1pLXa8mwXsB8mv15bvXFI-MEKgFiPg9fe
https://colab.research.google.com/drive/1CpYCWZ1ywOCWrbfq-qcs3ZF_MZsCn2HA
https://colab.research.google.com/drive/1i12boUHorV9WioUD_FqmANwBEBEzLHBO
https://colab.research.google.com/drive/1QR0y_i9-iCzyro6Nwt-kJFarQ-CouJF9
https://colab.research.google.com/drive/1-UElUzl_7ZAV_0VrVkM0fCuY0LsajTKF
https://colab.research.google.com/drive/1L8NZJdWt6kqq2t-xl2BfcUAI8Ks-VOpL
https://colab.research.google.com/drive/1XQmof1NpQvYFmphoYzWycEnQb2qSXzhY
https://colab.research.google.com/drive/1zAXM6XCpnxFwY4QtbGrUo6Jm2wlinpmz
https://colab.research.google.com/drive/1OcCPQqW6s27KGW1A0Yg7b-8Vtuai8BBz
https://colab.research.google.com/drive/1u1ojdRmKLq8DCHsjDq-Cy2BRNHsgItRd
https://colab.research.google.com/drive/1BfBQt2vCUHM_NqDXLu6lKFzPOilMQFs5
https://colab.research.google.com/drive/1OJxL2R1LcdfhzBoRENC0_HlO1OrcoN5I
https://colab.research.google.com/drive/1DpTnX3NebIxfm3QChysYNNp17_kQaP8z
https://colab.research.google.com/drive/1ZM3J8psKsoJDzy5FXXNwmAhNDUd3VdW7
https://colab.research.google.com/drive/1qiQQMWVEbYUHv_C9YOxY7MiFPHfbI_mM
https://colab.research.google.com/drive/1JS07rkT9TEFJn5peh0GswW05XNb1OAuT
https://colab.research.google.com/drive/1WDU6KFD72kGux6QRBFFLfhJCmHayFmXr
https://colab.research.google.com/drive/1L7_nt0k_FYOiILIlpfT0SsClbuB1IN7X
https://colab.research.google.com/drive/1IGDU5zAxpU64FDv6jFg0krVy3qY_shbI
https://colab.research.google.com/drive/1dyYRUyqcx7EY130_wYKTcyAUWyViDzA3
https://colab.research.google.com/drive/1g86vWN0_ewM0eSJftcu5-CLp_fdvrmiv
https://colab.research.google.com/drive/1S4R6c7Gqk_EiEV8EQfmadSHZZrNI4noO
https://colab.research.google.com/drive/1nzk6DA3tM2CPFVKn79gGZ7W5dbIea_c-
https://colab.research.google.com/drive/1DqY6kRAp3KeZC92V4YiaPwww7VulPzrq
https://colab.research.google.com/drive/1JnFiWBgGtzZwCJWm_FCOBukHxgHD0oyG