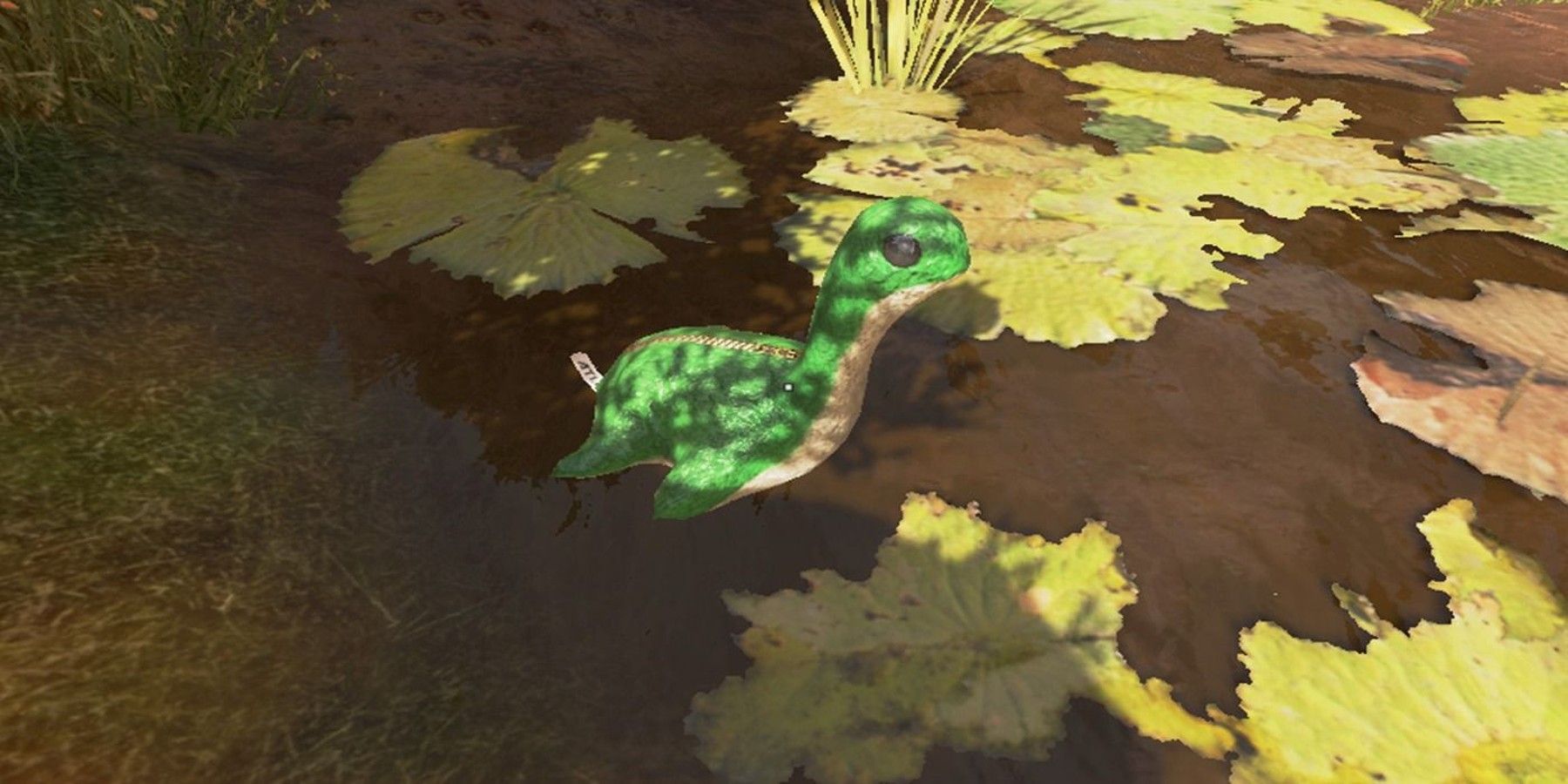 In Gun Run, a new chaotic LTM in Season 14 of Apex Legends, some lucky players have been stumbling across an Easter egg involving Nessie. Respawn Entertainment has introduced Gun Run as part of the Beast of Prey Collection Event, and while this content update for the game adds a new heirloom for Loba, this latest LTM is possibly the main attraction.
Based on the well-known Call of Duty game mode known as Gun Game, Gun Run in Apex Legends pits four teams of three players against each other in a mad dash to get a kill with 25 different weapons from the battle royale. While the game typically assigns the names Wolf, Tiger, Bear, and Eagle to the squads competing, these apparently are not the only team names that can be used. In addition, teams can have a secret fifth name based on a fan-favorite Loch Ness Monster.
RELATED: Apex Legends Dev Reveals Why Weapons Aren't Designed Exclusively for Care Package
Following the launch of the Beast of Prey Collection Event in Apex Legends, several gamers have discovered that their squad in Gun Game could be named Nessie, and some have taken to social media to reveal this unusual Easter egg. For example, a gamer known as Fatthew Mantasia on Twitter shared a video showing them and their teammates entering a match of the LTM as Nessie Squad. Beyond that, Shadytheruler on Reddit posted a picture showing them getting to be part of the rare team as well.
In addition, fans are not the only ones commenting on this new Easter egg. The Senior Technical Experience Designer at Respawn Entertainment, Justin Masse, has talked about Nessie squad in a Twitter reply to the game clip from Fatthew Mantasia. In fact, the developer has even given some details about the Easter egg, noting that it is "super rare" to find in-game. According to Masse, it only happens one out of every 1,000 games, and then there is still only a one out of four chance of a player's squad being picked to be Nessie Squad out of the teams competing in the match.
For those unaware, Nessie is a plushie that looks like a Loch Ness Monster, which was originally found in the Titanfall series. However, the developers at Respawn Entertainment have also included the dinosaur in Apex Legends. In fact, there have already been several amusing Easter eggs involving Nessie in the battle royale. A couple of years ago, players discovered that a giant Nessie in Apex Legends could be found in the water outside the Kings Canyon map. Furthermore, the developers modified the Mozambique over April Fools' Day to make the shotgun pistol shoot Nessies that would attack enemy players.
Seeing the developers at Respawn Entertainment put little details like these into the battle royale and its other game modes is often fun. Given the popularity of Nessie with the Apex Legends community, there is a good chance that even more Easter eggs featuring the plushie dinosaur could be added in the future.
Apex Legends is available now for Mobile, PC, PS4, PS5, Switch, Xbox One, and Xbox Series X/S.
MORE: Why The Time is Right for a New Titanfall Game




Source link
[colabot]